Our second book, 100 Tips for Traveling with Kids in Europe, is out!
Our first book, "Family on the Loose: The Art of Traveling with Kids
" was focused on how to travel anywhere with kids.  "100 Tips for Traveling with Kids in Europe
" retains the spirit of educational adventure but focuses on Europe and has lots of destination-specific ideas.
The first section, "Ready, Set…," will help you prepare for your trip. It provides ideas for involving the kids in planning, packing, and setting an itinerary. Where should we go? What should we bring? And, what should the kids do to get ready?
The second section, "Go!," is all about the trip itself—from the plane ride to the hotel room to daily adventures. In addition to safety tips and logistics, you'll find scores of ideas for places to go and things to do. Is Europe a good place for volcanoes? Actually, yes! How many kinds of boat trips can you pack into a three-week vacation? A lot! Can you bring a toddler to a museum? Absolutely!
While we can't list all of the tourist activities across this exciting continent, we sow the seeds for what your trip can really be. Don't settle for just the Eiffel Tower, the Colosseum, and Big Ben. Explore Europe! Dance to street musicians, learn about politics, eat seven kinds of waffles, go punting, and see fairytale scenery (literally!).

 Ready, Set…Go!  Jam-packed with tips and ideas, this book will help you with every step of planning and enjoying a European family vacation: designing a kid-friendly itinerary, booking fun and interesting lodging, choosing the best ways to get around, packing light, saving money, enjoying the airplane ride, staying safe, and immersing yourself and your family in the many cultures of Europe.
From the National Museum of Underwater Archaeology in Spain to the Hay Festival in Wales; from Eyjafjallajokull to the Jungfraujoch; from musical street buskers to the Mona Lisa; and from cricket to CalcioStorico, this book will help you and your kids find adventure, education, and great food across the European continent. Bonus: we also include tips for the all-essential step of coming home again!
Our amazing graphic designers have organized the tips so they're fun to read.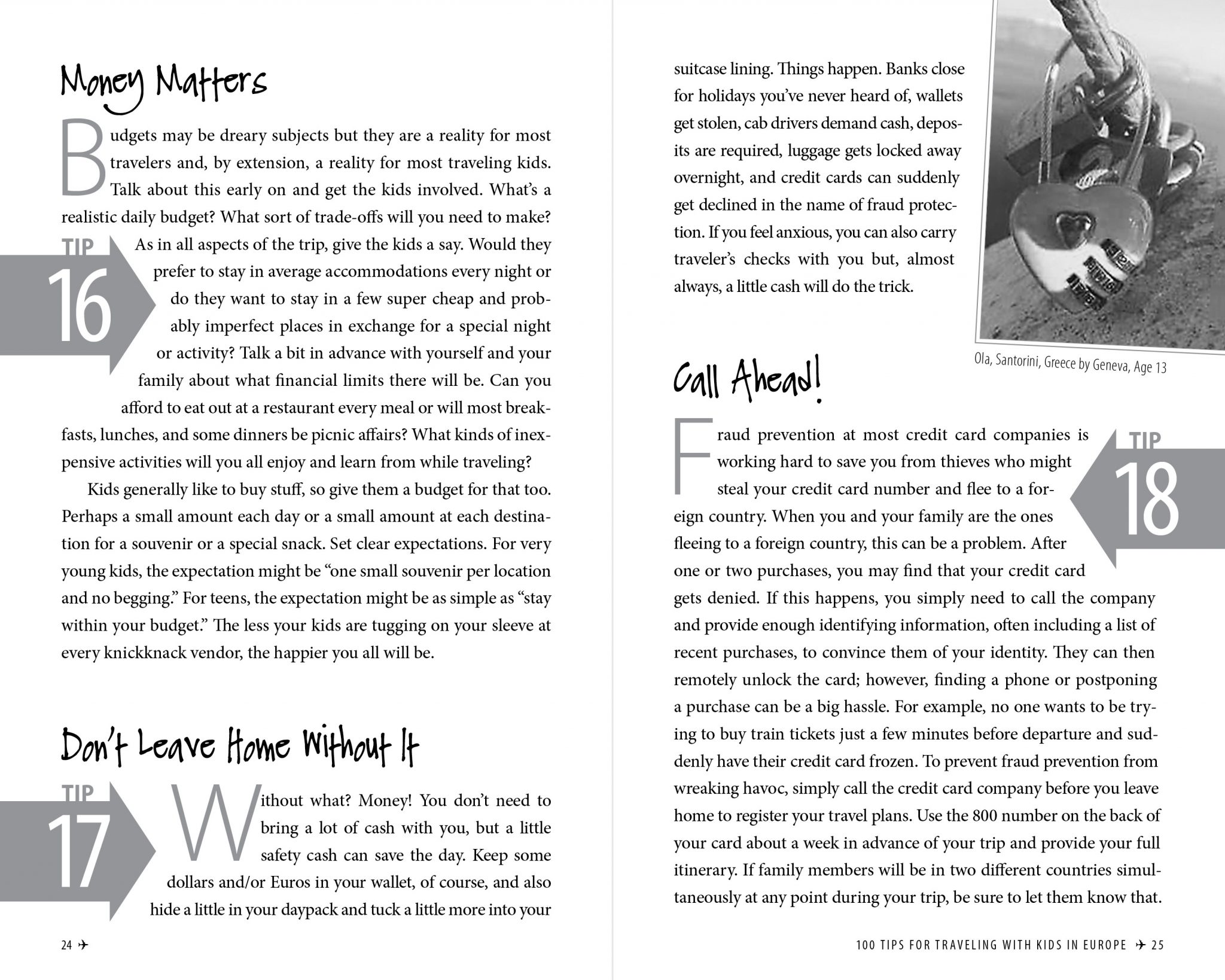 And our book includes dozens of photos taken by kids on vacation in Europe.  Just flipping through gives you a real kid-perspective…
Book Reviews & Interviews
"The breadth of information here is incredible … it will change your travels – and the way your family travels together. Add to it the inspiring tips for specific European places and activities, and this is one book you will use so much you'll crease the corners, have pens and post-its on certain pages, and crack the spine (I did!). Highly recommended." – Jessie Voigts, Curator and Publisher for WanderingEducators.com
"An extensive collection of practical tips. This book will help both new and experienced travelers make their family journey overseas unforgettable" – Kirsten Maxwell, Founder and Publisher, www.kidsareatrip.com
"Essential and incredibly useful guide…inspired ideas on helping kids engage with the magic of Europe" – Elisa Murray, Out & About Editor, ParentMap Magazine
"What a great, informative book! 100 Tips should be in every traveling family's suitcase. I loved the pictures and illustrations throughout, and this book has tips and ideas that everyone will enjoy while discovering Europe. Very, very handy." – Julie Witte at Goodreads.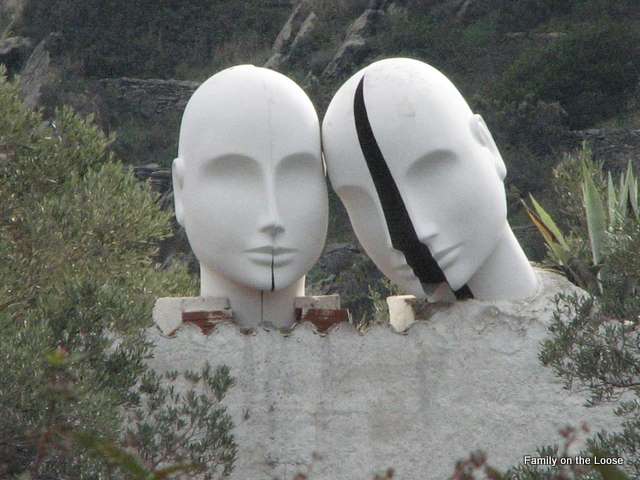 Ashley Steel and Bill Richards have visited over forty countries, have two terrific daughters, and are the authors of Family on the Loose: The Art of Traveling with Kids, also published by Rumble Books.
As a family, they've traveled in North America, Europe, Central America, and Asia. In Europe alone, they've explored art museums, castles, caves, kid's museums, sewers, overnight trains, discount airlines, and riverboats of all kinds. They've slept in hostels, fancy hotels, rental apartments, camper vans, and B&Bs. They've all carried backpacks, rolled suitcases, slugged skis, and even traveled without so much as a toothbrush.