National Parks are ideal family destinations.  They've already done all the work to make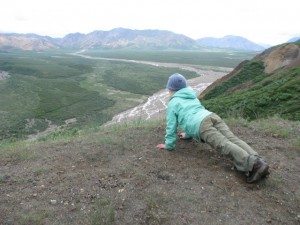 it fun and education for your kids.  The coolest program is the Discovery Pack program, available at lots of National Parks (but not all).  We used them at Denali National Park; They're available at Grand Canyon, Saguaro, Wupatki, Mississippi National River and Recreation Area, Voyagers, Canyon Lands, Yellowstone etc .  Inside there might be activity guides, books, plant, bird, or animal ID cards, magnifying glasses, binoculars, thermometers, water testing kits, clay for making footprint casts, a blank journal, water color pencils, pastels, pens, blank postcards to create your own.  All to borrow for free in most parks (some ask for a small donation).  Some parks offer ranger programs to teach you what to do with the pack.  Other parks, for example Biscayne National Park, have packs for teachers with lesson plans and all curriculum materials for a group of students.
There is also the Junior Ranger Program.  Each kid gets a booklet (yup – much like our scavenger hunt) and they have to full in information from the displays, attend a ranger presentation, sketch, puzzle, and write.  When they're finished, they can turn it in to the ranger and gt sworn in as a Junior Ranger.  There is a ceremony, a vow, and a collectible patch.  Pretty cool!
Lastly, planning a longer roadtrip?  Maybe buy a National Park Passport for each of your kids.  They have a little information about each park and, most importantly for your kids, a place for a stamp from each park.  And, each park does have a stamp with a date, tucked way in a corner somewhere.  Visit, stamp, track your progress, be excited to visit the next park.  It's fun.