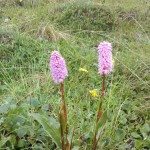 We arrived at Denali National Park after a 6hr drive from Seward.  We then had the choice of booking a 6-hr bus-ride, an 8-hr bus-ride, or an 11-hr bus-ride.  They all sounded dreadful.  A scan of the 3-D map and the available start times (for example, booking a bus ride for 6am was out of the question) left us with only one serious option … an 8-hr bus ride leaving at 9am the next day.  Still sounds miserable and, note, the day after the bus ride we have a 4.5 hr drive and a 3.5 hr plane ride. Who planned this trip?
The bus driver introduced himself as Scott Richardson.  You should write that down because if you ever go to Denali, it would be worth the trouble to try to get on Scott's bus.  He loves that park and he is everything you might want in a bus driver (almost – it would have been swell if he could have fixed the leaky coolant) and more.  He talked about the plants, ecology, history, the moose by the side of the road (cool!).  He's not an official guide; he's "just" a bus driver so he can only answer questions but he encourages so many questions and he answers them so well that you might be confused about whether or not you are on a guided bus ride.  Eventually, we also rode with Barr, Cindy, and Kat.  They all loved the park and provided information, helped us spot wildlife, etc.  But I guess you never get over your first bus driver.
You can hop on and off the bus anywhere in Denali National Park (except where it is closed for special wildlife protections – nesting mew gulls or roaming grizzly bears for example).  It is a 'trail-less' wilderness and that is a really cool idea.  You can just wander across the tundra or along a river bed.  You can go up, down, over there, beyond that ridge … wherever.  Then, wander back to the road, wave down a bus, and hop on again.  The crazy part is, by my estimation, only about 5% of the bus riders actually get off the bus except at the 3 official rest-stops.
Why?  Why would you go all the way to Denali, book an 8 hr bus ride, and fail to wander in the tundra?  I'm not saying you need to go 6 miles into the backcountry but just, get off the bus!  Feel the spongy tundra, stand alone and watch the bus drive away, put your hands in the river, throw a floodplain rock, and wave down the next bus.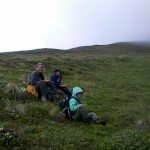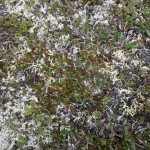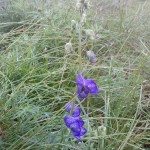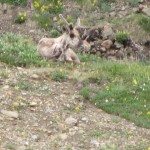 We made a 12-13 hour day out of our bus ride and even our 9-yr-old was rarely bored  (OK, she was pretty bored toward the end); our 12-yr-old really wasn't.  There were spectacular views, roadside cliffs that terrified, and enough wildlife to keep you scanning the horizon at all times.  But, by far, the best part of the day was when we were off the bus, alone in that enormous place.  Watching the bus drive off was somewhat unnerving … yes.  But being alone on the hillside with a fox, following the tracks of a baby caribou and seeing it across the ridge?  Counting all the tiny plants in a few square inches or trying to photograph every flower?  You just can't do all that without getting off the bus.