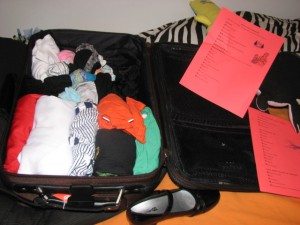 I definitely trust my kids to get through airport security, hop on the correct plane, store their stuff, relax, de-board with all of their stuff, find their luggage, and meet their Grandparents at the curb more than I trust them to finish their homework and clean their room.  But, the first flight is still a big deal!
Alaska Airlines doesn't let kids fly alone until they are 13 but it's only $25 per kid, per flight before that.  You can walk them to the gate with an escort pass and they can be picked up at the gate on the other side by an "escort" (which is kind of a funny choice of words if you think about it).  Alaska Airlines has a short form to identify the guardian/escort on the other side and a nice system for registering your credit card so the kids can still buy snacks and rent a digi-player on board.  Needless-to-say, they are already scheming about whether they want fruit and cheese or whether they would prefer a sandwich.  They've added up the cost for two snacks and a shared digi-player rental (since they have this stuff all memorized) to make sure we leave them with a large enough budget.
I'm not sure visiting grandparents really counts as "cultural exchange" but it definitely counts as "building independence and confidence."  Here's a Packing List – Grandparents so they can pack for the trip independently too!