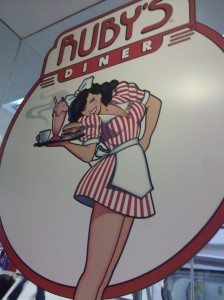 You've got your kids.  You've got your carry-ons.  And, you miss your connecting flight … now you've scored four glorious hours at one of America's classic airports.  Jackpot!!  First stop, something to eat.  We started at Ruby's Diner.  It's a fun experience if you want a burger and some really yummy french fries.  The only remotely healthy food on the menu is a Caesar salad.  However, in the front case they sell cups of fruits, little packages of cheese cubes and grapes, and a yogurt parfait.  "Everybody loves parfait."
OK, now you've blown one hour and you want to make the best possible use of the next three.  This is a great time to get started on next spring's science project.  Few venues offer such an easy opportunity to collect mountains of scientific data.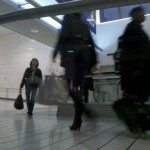 We decided to ask the question, "Is there a difference between how often men and women use the moving walkways?"  We decided it wasn't fair just to count the men and women on the walkways.  What if there were simply more men than women at the airport this afternoon?  So, we recorded whether each person was a man or a woman and whether he/she rode or walked.  We counted everybody going in one direction, toward the gates.  Crowds coming from the planes arrived in huge clumps making them were very difficult to count.  As well, we decided not to include kids under about age 10.  We debated about whether to include airport employees, airline flight attendants, or pilots in uniform and finally decided to count everyone.  This would give us some pilot data that we could use to apply for a further NSF grant focusing in on one particular sub-group of interest.  We observed airport folk for two approximately 10-minute sampling intervals and found the following data.
Overall, we observed 201 adults.  We concluded that more folks walk than ride in general but it was closer to 50/50 than we expected.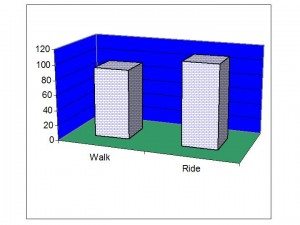 We also concluded that the proportion of men riding versus walking was a bit higher than the proportion of women riding versus walking.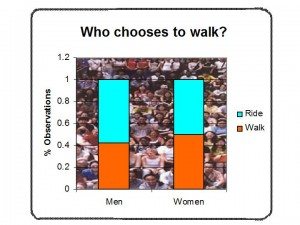 Various explanations were discussed … laziness was posited as a possible mechanism.  We wondered whether we would get the same results if we collected a lot more data or if we came on a different day of the week or at a different time of day.  Other hypotheses we could test at the airport:
Is there a difference in the proportion of black suitcases at different departure gates?  For example, gates for flights heading south versus north?
Is there a difference in walking speed for airline employees versus average folks?
Do bald men talk on cell phones more often than men with hair (my children's idea for this is that bald men might be trying to distract women from looking at their head by putting the cell phone up to their ear)?
Are more people wearing sunglasses at gates for flights heading to Europe versus the USA?
Are young kids more likely to be walking or in a stroller?
And, do folks on the phone bump into other travelers more often than folks who are aren't on the phone?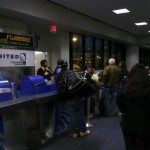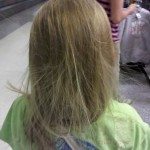 I was interested in whether there was a higher frequency of women wearing gold shoes at gates for flights departing to Florida versus other locations.  We found a flight boarding for Ft Lauderdale … perfect! …but, sadly, could not spot a single pair of gold shoes.  We contemplated the possibilities of conducting an interview survey and Logan decided to conduct an uncontrolled experiment with static electricity instead.  She's now thinking about further research comparing the static electricity in Newark versus Honolulu .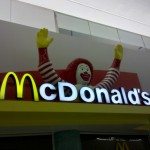 Next, the history lessons.  We searched high and low for the bench where Bill once spent a night at the Newark airport in his early twenties.  Supposedly next to a closed bagel shop?  No luck.  We did however find the McDonalds where we first discovered just how long a toddler can be entertained with a handful of free plastic spoons.  It might even have been the very spot at which we first decided to write a book on traveling with kids.
Well, having really benefited from the educational opportunities at the airport and having already gotten our exercise for the day (jogging from gate 64 to gate 111 to try and catch the earlier flight), we decided to enjoy a little R&R.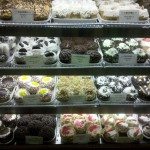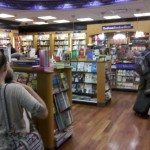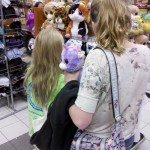 We started by browsing the boutiques.  We perused the piles of big-eyed stuffed-animals, the NYC souvenirs (why no New Jersey souvenirs?), and spent nearly 20 minutes in the bookstore.  We passed gadgets, trinkets, and a crazy bakery full of cupcakes that promised more frosting than cake.  We treated ourselves to a pack of gum and a brand new tube of chapstick.  Good times!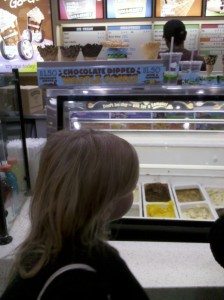 And the finale, ice cream.  It's always ice cream with us eh?  You can buy one large Haagen Dazs ice cream for $5.40 (with tax) and ask for an extra cup and spoon.  Or you can buy two small ice creams for approximately $4.80 (with tax) each.  The choice is really yours.  But if you can convince your kids to share, there is a bargain to be had.  Only at Newark.  Our flight is now boarding and we're preparing to leave.  But, it's OK.  We know we'll be back sometime soon.  You just can't do it all in one visit.