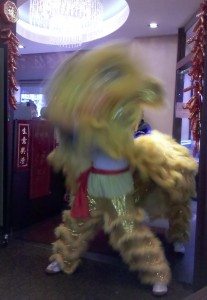 Richmond B.C., a simple suburb of Vancouver, is more than just another Chinatown.  Just 25 mi above the Canadian border, rumor has it that Richmond boasts the largest concentration of Chinese outside of China.  In 2006, the population was 45% Chinese (and 10% Scottish which I find surprising) and this population segment was growing rapidly (up 21% from 2001) (http://www.richmond.ca/discover/demographics.htm).  Now, understand, that Richmond is a fairly large city and there are large areas with few Chinese.  So, in the core of the shopping district, a.k.a. the Golden Village, a population of 45% Chinese overall can appear more like, well, 100%.  In fact, on our first trip, we arrived late and wandered into a mall to find food.  No one spoke a word of English.  It was as if our 2.5-hr car drive had been a 15-hr plane flight.  We ordered by pointing, smiling, and accepting whatever was offered with appreciation.  An older man sat in a grimy chair at the corner of the mall.  He had few teeth and a great smile and he watched us approvingly, a little lost family who had tunneled through the Earth only to discover some very yummy fast food.  He gave us a lot of nods and several thumbs-up.  Now, we try to go to "China" at least once a year.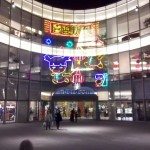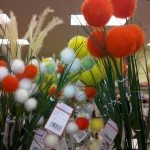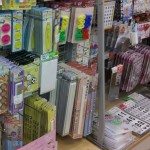 The kid's favorite stop is the 2-story Daiso Store.  This is the dollar-store of Japan.  I know, I know … not China.  But, it is fun.  Fun, fun, fun!!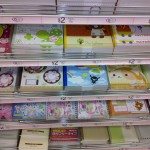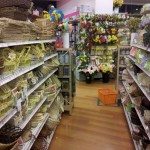 Everything is 100 Yen in Japan, $1.50 in the USA, and $2 in Canada.  And, everything includes, well, everything.  Erasers, dog toys, notebooks, nail polish, plastic storage boxes, belts, plates, tools, toys, bath accessories, candy (a post about the educational aspects of crazy candy is coming soon), school supplies, Pokka-dotted bags, fuzzy toe socks, green rabbit kitchen timers, yellow plastic banana holders, and dried flowers that had to be designed by Dr. Seuss himself.  Give your kids a budget and enforce it.  Expect that you (more so than your kids) will have a problem staying under-budget.
Once you extricate yourself, you can enjoy the rest of the Aberdeen Center (http://www.aberdeencentre.com/en/index.php).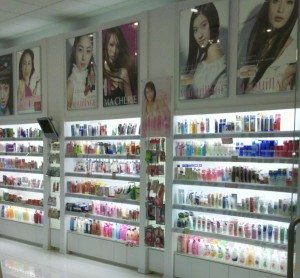 There are stores you have likely never seen before: a store selling every accessory for your car; a store selling every kind of rice cooker; and a booth selling 100's of styles of voodoo dolls. The largest voodoo doll was listed at $2300 (but the whole store was 40% off so … what a bargain?).  The Cube Inc. store is a modern, high-tech consignment store.  Something to sell?  Rent a clear acrylic cube, decorate it to attract attention, price and display your items.  If someone wants to buy from your cube, the store employee will open it and sell the item for you.  There is also a fountain in the middle of the mall that, every so often, puts on an exuberant water show, orchestrated to piped-in music.  The best place to watch the fountain show is from the third floor food court (How many types of Asian food are available in the food court?  Too many to count).  There are also restaurants, clothes, stores full of plastic food or miniature plastic food (that's two separate stores), stores dominated by giant gumball machines, and nearly empty shops lined simply with beautifully, back-lit cosmetics.  A fancy supermarket recently opened inside the mall and there is an (expensive) children's play area on the top floor full of tunnels and activities.  Parker Place, an older and more Chinese (as opposed to pan-Asian) mall, is also a fun stop.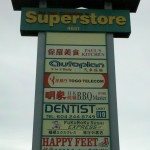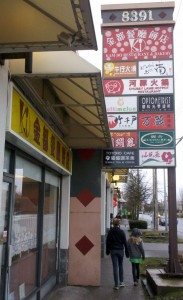 And, just wandering aimlessly amidst the strip malls can be a thrill.  I find the billboards strangely pleasing – Chinese characters intermixed with funny English out-of-place phrases such as "Happy Feet" or "Big Bargain."  In one strip mall, I wandered over to explore a dim sum restaurant and discovered that it was not just another restaurant but an outlet of sorts, filled with freezers full of dumplings.
How about visiting a supermarket when you're in the Golden Village?  Wandering the aisles can be an educational adventure unto itself.  We found a Quaker instant oatmeal product in the flavor of 'wolfberry and white fungus' (you just can't make that up!) as well as instant coconut gelatin and fresh imported longans.  During our 25-min shopping tour, we were bathed in odd music including several versions of a song sung in a sicky-sweet, mature chipmunk voice with lyrics to promote a sense of shopping well-being (I guess?) – "happiness, happiness is there for you and me."  The cashier didn't speak any English and bagged our groceries wearing blue plastic gloves.  Why?  Then, just when I was really in China, the payment machine offered options in both English and French.  Oh yeah … we're in Canada!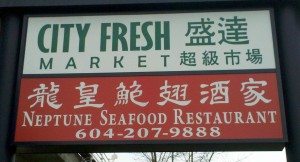 The finale of any well-planned trip to Richmond, BC should be a dim sum brunch.  Dim sum used to be identified by large loud restaurants full of food carts.  But, dim sum is now often served "Hong Kong style."  You can order whatever you like by checking boxes on a slip of order paper at one's table.  Where to go for the best Dim Sum in Richmond?  Well, we had visited a restaurant for dinner that came highly recommended by our hotel, Neptune Seafood.  The menu had been only in Chinese, the food delicious, and the place packed.  So, we made a return reservation for noon on Sunday.
When we returned, they showed us quickly to our table, right next to the front door.  Of the, approximately, 200 people eating loudly, there were exactly 4 Caucasians – our family!  Several families or wait staff stopped at our table to ask "Where are you from?" in the same tone one might ask of obvious foreigners on a street corner in Beijing.  We had the same friendly waiter as the night before.  He surveyed our initial list of dim sum selections with disapproval.  "Shu mai is not special here.  You should get special foods." And, he quickly rearranged our order to include egg rolls ("different that you've ever eaten before"), abalone in sticky rice, and

"something like mushroom pie but you can't translate it into English."  When fluffy sticks stuffed with shrimp arrived, we didn't even know we had ordered them until our waiter, Peter*, stopped by and said "So, you liked the egg rolls."  And the mushroom pie was fantastic.  Other items carried past us included assorted shapes of bright yellow Jell-O with red peanuts inside and brown spongy star-shaped cakes.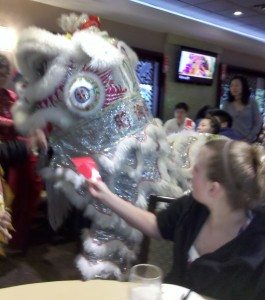 Just as we were feeling sad that our stomachs could hold no more, a drumbeat drifted into the door and people started running around in excitement.  The headwaiter brought over a tray of empty red envelopes "Put money inside.  Feed it to the lions.  Good luck in the new year."  By the time we had fished a toonie out of our pocket for each girl, a yellow and a white lion had slinked into the doorway and were wrestling to grab a cluster of dollar bills that dangled temptingly from the ceiling near the bar.  Once they successfully swallowed the money, they perched high and spit good luck out across the restaurant in a spray of financial confetti.  Then they danced around the restaurant, collecting donations and imparting good luck to all.
We left the Golden Village on this cross-cultural high, in possession of many new $2 plastic items, bags stuffed with baked goods, and a camera full of interesting pictures.  This isn't NYC or San Francisco Chinatown, it is really a pan-Asian village.  We hadn't even had a chance to visit the Buddhist temple or try one of the many hot pot restaurants that had sprung up since our last trip.  Back at home, pur new copy of 'If the world were a village' had arrived and our kids discovered that 21% of the world speaks Chinese. They are now inspired to learn a little Mandarin.  Luckily, great opportunities to practice are only a delicious 2.5 hour drive away.
*all the waiters had name tags with English names …. "Peter", "Anthony", "Albert", "Lydia".  When I asked why, Peter answered 'Because it's easier for you to say".  Well, yeah, but … the menu is only in Chinese!