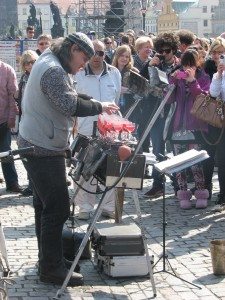 We think about cultural and historical education when we're on the road with kids. We remember to take our kids to art museums, historical landmarks, and famous icons. But what about music? Music differs all over the world, it's everywhere, and it's often free. It's something that can be hard to find time for at home so take advantage of being on the road to expand your child's vision of what music means.
There are street musicians in almost every tourist hotspot around the world, local concerts, special cultural performances, and musical history. Try saving some focus for street musicians on your next trip. They're in fairly predictable places so plan a visit and take some time (and maybe some desert) to really enjoy a performance.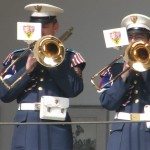 Talk to your kids about the instrument(s), the musical selection, and any cultural nuances. Let them dance or sit back and act cool (depending on their age). We saw a street performer in Prague playing amplified water glasses (top photo) … awesome!! And, in that same city, there are hourly trumpet calls in the town square as well as trumpets announcing the changing of the palace guard.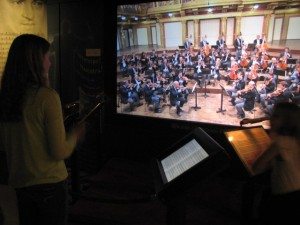 Where else can you find music? Church services often include beautiful music. Monks chant. And, restaurants have live performances. Local concerts are usually posted on community bulletin boards, announced in the local paper, or listed on-line. If you don't speak the language, it is probably easier to get a bit of help from a local when trying to figure out what is available. There are landmarks of famous composers or musicians to visit and even music museums like the Haus der Music in Vienna.
Countries, and even regions within countries, oft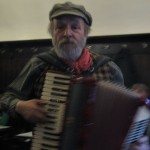 en have a special local instrument that your kids can try such a harmonica, an Australian rain stick or didgeridoo, the klong thap in Thailand, or a kalimba gourd thumb piano from Burkina Faso. You can check YouTube for short videos demonstrating these instruments before you go (or after you purchase one as a souvenir).
Most cultural performances include music but often as a backdrop. Movies from your destination often have local music in the sound track too. Ask your kids to concentrate on the music. How is it different from pop music? What adjectives would you use to describe it? How is music different, generally, in different places or from developed to undeveloped areas? From East to West? Or From country to city? Is music integrated into daily life differently in different cultures? Some locations lend themselves to a sound journal (see Chapter 6 of our book) or even just a collection of quick sound samples. Local music cds can be a fantastic, compact souvenir (especially for older kids). Teens can collect pop music from around the world. To save space, burn the music to your laptop and the physical cds can be left behind (don't forget to back up your music and any other files to a USB drive that you keep in a separate bag). Where there are no cds, ask to video a song or performance.