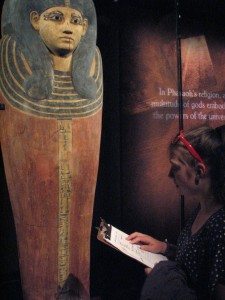 Happy National Archaeology Day!  Last year, Congress designated October 22 as National Archaeology Day and we're celebrating with a trip to Ancient Egypt.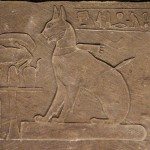 We started preparing for the tip back in August at the King Tut exhibit (in Seattle until January 6th).  The audio guide was well worth the extra few dollars.  In addition to information about the artifacts, the audio guide offered information about Ancient Egypt and the archaeologists who uncovered the tombs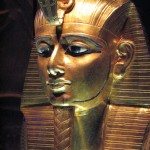 . The kid's favorite artifacts included a box etched with cat drawings and the golden mask. We demo'd the final versions of the museum scavenger hunts for our book and I was happy to discover that they worked well.  At the gift shop, the kids had their names written in hieroglyphics for $1 – always a crowd pleaser.
Next stop was a lecture by Don Ryan, author of Beneath the Sands of Egypt.  He spoke about the Valley of the Kings, how the tombs were numbered, when tombs had been moved, decisions to explore supposedly uninteresting tombs, discoveries of female mummies, the impossibility of pronouncing Ancient Egyptian words, and the history of archeologists in the valley.  The lecture took place in a restaurant as part of the Science Cafe series and there was plenty of time for questions which made for a particularly fun and engaging evening.  We also read Cleopatra's Moon and Tutankhamun: The book of shadows (for teen and adult readers) and Sphinx's Princess (reading level age 12 but content fine for younger readers with guidance) which gave us fictionalized yet exciting views of Ancient Egyptian life.
Inspired by the lecture, we ordered a few new books to prepare for our expedition.  Ancient Egypt on 5 Deben a Day, a travel guide to visiting Ancient Egypt, and Adventures in Ancient Egypt, part of the Good Times Travel Agency series.  We learned that the bread in Ancient Egypt is extremely hard and difficult to chew and that tourists should adopt beer as their prefered beverage. We should expect to find onions, garlic and chick peas as well as lamb.  Cumin and coriander were generally available. Beef was reserved for the very wealthy.  We should also expect to sleep on the roof, perhaps with a stone pillow?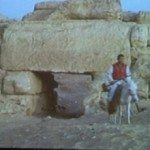 For the trip itself, we rented Egypt: Engineering an Empire and National Geographic: Secrets of the Pharaohs although there are plenty of other documentaries to choose from.  On Netflix alone there are at least 7 documentaries on Egypt that stream live. We ate stewed lamb riblets with chick peas, garlic, and onion, flavored with cumin.  Side dishes included figs, chopped dates, and clusters of grapes. We drank mugs of root beer and small glasses of pomegranate juice to complement our meal. Dinner turned out both tasty and distinctive (recipe below). I don't imagine kids clamoring to cook more Ancient Egyptian food anytime soon but they have new tastes on their tongues to connect  with all they have learned in Ancient Egypt. So far it 's been a fun trip.  Wish you were here!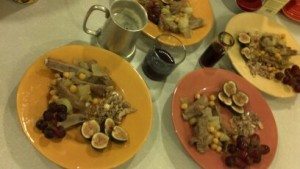 Recipe: Saute one vidalia (sweet) onion in a tbls of olive oil until it begins to soften.  Add 1-2 tsp crushed garlic and heat 1 minute.  Add 1-2 pounds of lamb riblets. Brown them in the garlicy oil.  Toss in a large pinch of cumin.  When lamb is nearly completely browned, dump in one can of drained chick peas.  Stir over medium heat until lamb is cooked through.   We have no idea if they actually ate  this in Ancient Egypt but it's a reasonable combination of available ingredients.  Eating the lamb off the bones adds an element of intrigue and adventure – bonus!
Note: Photography is no longer allowed inside the King Tut exhibit.