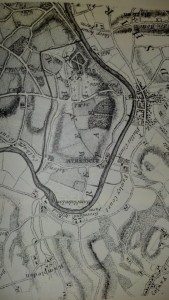 "Low in a vale, by wood-crown'd heights o'erhung,
Where fir, and larch, and beech are careless flung,
With silver Thames slow rolling at her feet,
Lies Henley-Contemplation's calm retreat."
Opening lines of a poem detailing the charms of Henley-on-Thames, published anonymously in 1827.  The poem is attributed to Mr. Richardson, a temporary resident of Henley.  Though I've never, technically, resided in Henley, I've visited regularly for over thirty years and consider myself perhaps an intermittent resident. I'm lucky enough to be here again.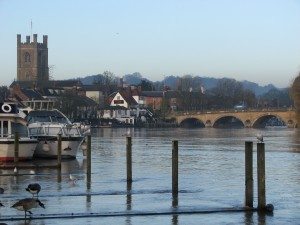 Just 40 minutes from London, Henley-on-Thames was a medieval market town and river port and is most famous for the Henley Royal Regatta, which it hosts on the first weekend of July, Wednesday to Sunday.  The race is 1 mile and 550 yards, finishing just downstream of the town bridge.  Every room in town is booked at least a year in advance for the event (I speak from frustrating experience); the streets, trains, and riverbanks are backed with Pimms-drinking, hat-wearing spectators young and old. The regatta is not as much about rowing as one might expect. Only the tourists and athletes are actually watching the boats it seems.  And even the tourists can't watch the boats all the time because they must also save plenty of time to watch the Pimms-drinking, hat-wearing spectators.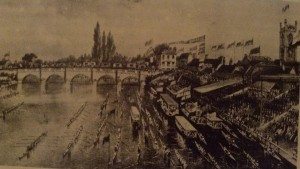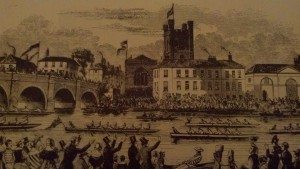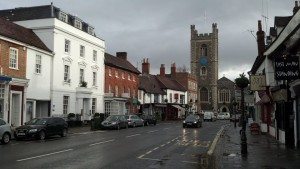 Henley-on-Thames is, perhaps, even more fun to visit at other times of the year.  The shops on Bell and Duke Street can soak up hours of browsing.  Many of these, particularly on Duke Street, are second-hand shops run by charities allowing shoppers to feel good about the time and expense of shopping.  As you browse, peer down the alleyways. Tucked along nearly every one are beautiful arches, little gardens, and wooden gates, all kept up immaculately.  There's no reason to let the shopping make you weary. I estimate that there are at least a dozen coffee shops for rejuvenation with enticing names like Chocolate Theater Café and Patisserie Valerie.  The shopping is not just for tourists. On an average Saturday, the streets are bustling with locals finishing up their regular errands by foot.  Young mothers with children by the hand and elderly gentleman wait with grocery bags at the pedestrian crosswalks and duck in an out of drugstores and dry-cleaners.  There are an impressive number of elderly locals doing their errands by foot and the shopkeepers appear patient and considerate.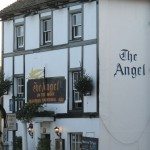 Henley-on-Thames is alive with its history.  The church in the town square, The Parish Church of St. Mary the Virgin (pictured above), was originally built around 1000 and was rebuilt or remodeled in the 13th, 15th and 19th centuries.  The current building has classic and distinctive external flint walls; the oldest building in Henley-on-Thames is the yellow Chancellor's house just behind the church with it's lovely sagging second floor beam.  St. Mary's is not just a landmark, it maintains an active congregation and continues to host at least two services every Sunday as well as weekday Eucharist and prayer.  The Kenton Theater opened in 1805 and still advertises an exciting season.  The historic old Brakspears Brewery has recently been converted to the Hotel du Vin, a gorgeous upscale hotel in the center of town with an outdoor courtyard romantic-enough to warrant a flight back in warmer weather.  The Angel on the Bridge, the most famous landmark in town (or perhaps I'm just partial to beautiful old pubs on riverbanks) has been in business for years with its perfect location, log fire, and local beers.  Up the Gravel Hill is Friar Park, the eccentric Victorian neo-Gothic mansion owned by George Harrison since 1970 – a bit of musical history from a more recent era.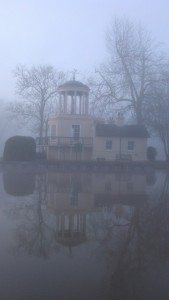 In addition to shopping, drinking, and gazing at lovely old houses and cottages, there are tremendous walking trails originating in Henley-on-Thames. Footpaths along the river offer miles and miles of opportunity.  Walk upstream a few hundred yards to the River and Rowing Museum and the Wind in the Willows Museum and keep going beyond.  Walk downstream to Temple Island, which marks the beginning of the Royal Regatta course, and beyond to the Hambleden Lock and Hambleden Village.  Even if the sky is blue, the riverbed may be filled with a glorious English mist.  On this recent visit, the mist kept Temple Island out of sight until I was right on top of it and allowed rowers to weave silently in and out of sight.  Henley-on-Thames is a perfect destination for a romantic get-away, a family with young children (read our article at WanderingEducators.com), or a gathering of elder friends.  It's even the perfect setting, as the poem suggests, for a single traveler to enjoy that elusive combination of luxury and contemplation.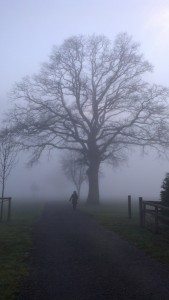 Poem and photographs are from "The book of Henley-on-Thames" by G.H.J. (Harry) Tomalin, published by Barracuda books Limited, Chesam, Buckinghamshire, England in 1975.  Mr. Tomalin was born 1898 and had lived in Henley for three quarters of a century, since 3 months old.