The most recent review of our book, "Family on the Loose: The Art of Traveling with Kids" is on Parenting.com by Matt Villano.  His label under the image of our cover? "Family travel Bible, of sorts."  Please let us know if you're interested in a promotional review copy.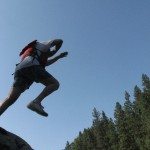 I also adore some of Matt's other posts.  For example, "You know you're a family travel junkie when …".  After reading it, I was inspired to add a few ideas such as:
You mindlessly surf the Kayak app on your phone while waiting in line at the grocery store.
The idea of a stay-cation makes you a little anxious.
Your friends really don't want to hear about your trips nor be given unsolicited advice for their upcoming trips (I just can't help myself) nor, in our case, do they want to hear the dreaded word "book" even one more time.
Your kids get through the security line faster and more efficiently than the business man with the briefcase looking at them nervously.
You have a box in the closet full of small plane gifts, electrical outlet converters, bits of foreign currency, and packing cubes to organize your luggage.
And, once, at a professional meeting, I pulled a tiny sock from in between my 'important papers'. Teaching your kids to pack themselves take patience.
 Our credit card statement is probably a tell-tale sign as well but that's a whole different thing.
My favorite item from Matt's list is "You smile the knowing smile at parents traveling with kids, as if to say, 'I got your back.'" And, its absolutely  true!  It's an unspoken solidarity that unfrequent travelers can't imagine.  On the first trip with kids, you might think that the business woman, the older couple, or the stylish man are groaning when they see you waiting at the gate with kids in tow.  But, remember, they may also be thinking "gee, I miss my kids" or "I remember when."