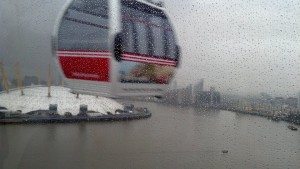 Linking North and South London, the Emirates Cable Car is a perfect family travel accessory.  It likely won't be the main event of your day, but like any good travel accessory, it can add zip for very little cost. Just a 5-minute ride across the Thames River and only about $6.50 for an adult and $3.50 for a child.  The cable car boards like a ski lift in that you walk on while the car is moving slowly (in fact it IS a ski lift built by Doppelmayr in fact).  Views are tremendous! There is no need to get off on the far side of the river if you prefer a simple round-trip excursion – just buy a RT ticket and wave it at the staff on the far side of the river.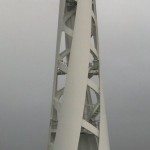 The design of the supporting poles is pleasing.  And, we like the sentiment behind the new transport as well: "Emirates believes the more one sees of the world, the richer life becomes. And so we work to bring cultures and ideas and new ways of doing things closer together. We build bridges between them."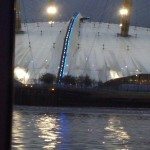 If you are brave and adventurous or if your kids just need to burn off some steam, you can now buy a ticket to walk over the top of the O2 as well.  Looked wet, cold, and tiring when we visited but there were folks tip toeing across the giant dome just the same.