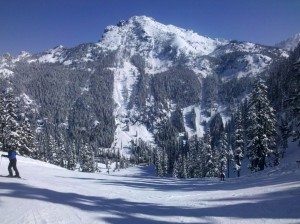 Snoqualmie pass is the major east/west migration route through the Cascade mountain range from Seattle.  It is also the home of The Summit at Snoqualmie, an amalgam of four ski areas that each have a unique and distinctive vibe despite being commonly-owned.  There is Summit West, a perfect place for families to learn to ski.  Summit Central has the terrain park and is popular for night skiing.  Summit East (a.k.a. Hyak) is my family's low-key favorite.  And finally there is Alpental, which has the steeper terrain and backcountry access that expert skiers love.  I've been skiing at Snoqualmie pass for over 20 years and have had a season pass there for the last decade.  I won't tell you where my secret stashes of snow are located, but here are a few other things that I have learned:
Proximity vs. Elevation:  One of the best things about Snoqualmie is how quickly you can get there from the Seattle area (50 minutes from our house in Bellevue).  I-90 is a major four-lane highway that the Washington Department of Transportation works hard to keep open even in the fiercest of snowstorms.  It periodically gets closed for avalanche control or to clear spun-out vehicles, but generally it's pretty easy to get to the pass.  The downside is that the base elevation of the ski areas is the lowest of any ski area in the state at around 3,000'.  The temperate maritime climate means that the temperature at the pass is often just around freezing with predictable affects on the snow.  At these times, it's often freezing at higher elevation ski areas.  But The Summit still gets lots of snow (a 5-10' base is common), and I tend not to let a little drizzle discourage my regular ski workouts.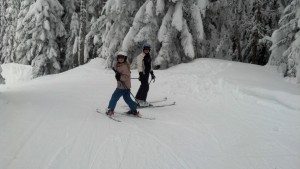 Family skiing:  The close proximity and ample moderate terrain make The Summit a perfect place for family skiing adventures.  Summit West is the best place to start, but Central and Hyak all have terrain that is quite moderate.  "Magic carpet" conveyor belts and beginner chair lifts help even the youngest skiers learn (see the next paragraph).  We like Hyak as much for what it doesn't have (no ski schools, terrain park, or high-speed lifts keep the crowds down) as what it does have (terrain for all our skill levels, lots of awesome trees, and the mellow Nordic ski vibe), but it is typically only open on weekends.  Our kids' favorite runs are "Serpentine" at Hyak and "Monster Alley" at Summit West.  There's also an Alpental Leadership program for teens that we look forward to exploring.
Ski schools:  Unlike many ski areas, The Summit still allows third-party private companies to run ski schools on their U.S. Forest Service concession.  Along with their own ski school, which is pretty good, there are over 15 groups offering to teach skiing and snowboarding, often from their own chalets at the base of the mountain.  This means that Saturday mornings in January and February can be packed with small groups of kids, but it's also pretty awesome when your kids are in one of those groups.  We've had great success with several of the ski schools, which typically run weekly lessons for six-week sessions from Summit West and Central.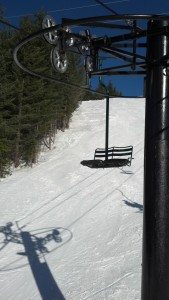 Cost:  There really is nothing cheap about skiing.  Gear, lift tickets, and gas all add up to expensive!  The Pass primarily caters to family skiing, and though they're obviously conscious of their family/beginner niche, it still ain't cheap.  That said, I get season passes every year for my entire family.  We ski often enough that it is easily more cost-effective than buying lift tickets on each visit.  There are also deals on renting equipment for the season, both at The Summit's rental office and ski shops around the city.  Maybe the best deal around is the three beginner lesson package that includes rental gear and lift tickets.  The last time I checked it was about $120.
Lodging:  There is a motel at the pass, as well as various private cabins and chalets for rent, but we live less than hour away so we never really think to stay up there.  The Mountaineers Lodge burned down a couple of years ago, but the Washington Alpine Club (WAC) and Sahalie Ski Club have big lodges for members and guests.  I know folks who regularly stay in their RVs in the parking lot.  Since one of the best things about Snoqualmie is its proximity to the city, it is possible to stay closer in and commute.  The closest communities to the pass are North Bend to the west, and Easton/Roslyn/Cle Elum to the east.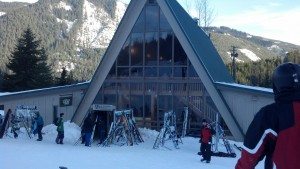 Lunch:  Each of the four base areas have chalets offering food and drink.  We tend to avoid them on weekends at midday, because the crowds make it difficult to have a good experience.  They're fine at off-peak times, but you'd think management would figure out better ways to handle the rush hour.  I like the upstairs couches at Hyak, and the Bavarian pizza at Red Mountain Coffee, which is across the street from Summit West.
The Park:  To be honest, the terrain park is not my forte.  But I am amazed at the tricks you can regularly see performed from the features and jumps below the Central Express chairlift in Central Park.  You have to sit through a short course on park safety, fill out some liability waiver paperwork, and pay an additional $5 to get an annual park pass, but it's a minor hassle for the payoff.  The features are always changing and there seems to be a competition of some kind almost every weekend.  Central Park always has some of the most activity on the mountain.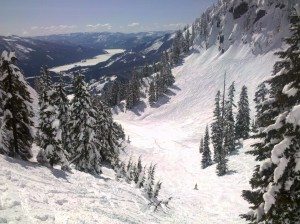 Steeps:  Though there is at least some steep terrain at all the ski areas, Alpental is where the expert skiers and riders go.  There is no easy way down from Chair Two, which accesses the highest point at The Summit, and Upper International is always a thrilling run.  I've had some great powder days up there, but my kids aren't up for it yet.  There are also a couple of backcountry gates that access unpatrolled areas outside of the resort.  There is a ski patrol orientation for backcountry rookies.  If you do go, always carry the appropriate avalanche gear and go with a friend.
Other Stuff:  Skiing and snowboarding are not the only things that bring people to the pass in the winter.  There is sledding at a designated area, tubing with it's own lift, and a Nordic skiing center with tons of groomed trails.  Like the view of park rats from the Central Express lift at Central, it's often entertaining to watch the Nordic skiers attempt to ski the lower slope below the main chair at Hyak.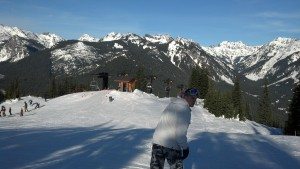 The Summit's website has loads of information including regularly updated weather and snow conditions and links to highway information.  There are also guides for parents and beginners.  The pass is busiest during January and February, but the season can last from Thanksgiving to Cinco de Mayo, so don't forget about snow when your neighbors are planting their spring garden.

Snoqualmie Pass on Dwellable