We're interested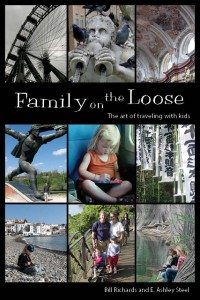 in what readers have taken from our book.  What has worked and what hasn't?  So we're hosting a little contest.   Please tell us if you used an idea from the book or if you have something new to add.  To enter, just submit a comment on this post describing your experience, tweet your experience, or post in on your Facebook page and share it with ours (full details below). One winner will be selected at random from all thoughtful book reports.  The winner will be selected on May 15th and will receive a Family on the Loose travel bag full of our favorite fun travel stuff – mini books, a blank journal, wrapped surprise presents, mini art supplies, paper maps, map dots, and more …take the whole bag on your next plane, train, or auto trip!

Ready, set …
The first section of the book is about getting ready to travel.  Reading books, trying crafts, and getting your kids engaged in planning the adventure.  One reader wrote to use about the section on enabling kids to pack themselves.  She said that the packing lists worked great and the kids were excited for the independence. However, she wished she had explained to the kids that they needed to pack clean clothes (as opposed to the dirty ones wadded under the bed).   What worked or didn't work for your family?
Go!
The middle of the book is about what to do on the road.  Have you tried a museum scavenger hunt?  Have you played any of the games while waiting to be served at a restaurant? Any journaling ideas that worked super well or that were an horrid failure?
Traveling Home
The final third of the book is devoted to ways to make travel memories stick and to discover new cultures close to home.  We talk about cultural mini-trips, international birthday parties, and themed country nights.  Please share any successes or failures with cultural exploration back home.
Gorey Details
You can enter in three ways:
Post a comment to this page
Tweet how you used our book @familyonloose
Post how you used the book on your Facebook page and share with us https://www.facebook.com/FamilyontheLoose
If you enter all three ways, you will be entered to win three times!  You can only enter once per e-mail address, twitter handle, or Facebook page.
For an entry to be valid, it must be thoughtful.  It does not have to be brilliant but it must indicate that you have actually read at least a part of our book.
For an entry to be valid, we must have a way to contact you if you win as we will need your shipping address.  We will try to contact you via the e-mail you used to submit a comment on this page, your Facebook page, or via a direct message on Twitter (you have to follow us for us to be able to message you).
The contest opens April 2 (when you can get the kindle version of our book free on Amazon) and closes May 15th. 
We will select the winner at random on the weekend of May 18/19.  In real life, I'm a statistician and I know  a lot about "random".   However, in the interest of trust, I will not use a fancy computer algorithm.  I will use a hat – a real hat!  Entries via this page, twitter, or Facebook will be printed on a little piece of paper and put in a hat.  Again, one entry per format (blog/twitter/FB) per e-mail address/twitter handle/FB page.  Our kids will select one winner at random and we will post a few photos of this scientific process for credibility.
We will ship awesome travel goody bag anywhere in the world within a week of selecting a winner.