Manhattan can be an expensive and intimidating destination for anyone.  It's a great place to travel as a family but it's challenging to get past the big tourist destinations and into the real city.  Here's a few of our recent finds to get you started!  The Tenement Museum is a fantastic window into the history of New York City and into America in general.  It should not be missed but you must get your tickets in advance to avoid disappointment.  Visits to the museum are by guided tour and there are several unique packages to choose from.  Most of the tours take place at 97 Orchard Street, a renovated tenement building with a basement and 5 floors, each housing a different window into history.  The building once housed 2 shops and about 22 apartments, each only 325 sq ft and without plumbing or electricity.  During a 70 year period centered on about the turn of the last century, approximately 7000 individuals and 30 different businesses were housed in this one building.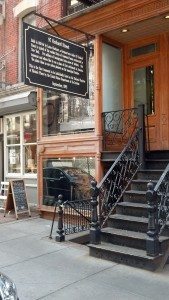 We took their newest tour, the "Shop Life" tour, on the bottom level and enjoyed an overview of life as a new immigrant to New York with emphasis on the wave of German immigrants from about 1860-1880.  We learned through old photos, newspaper clippings, an interactive card game, visiting rooms, holding artifacts, and a high-tech smart board (you may be impressed by the high tech smart board but your child will likely be a lot less impressed as there are many in school classrooms across the country).  The 90-minute experience gave us all a multi-faceted vision of what life was really like for the proprietors, John and his wife Caroline, as well as glimpses into the other businesses that once occupied the building including a kosher butcher, an undergarment factory, and an auction house.  The finale was a video of a nearby contemporary local storeowner and wrapped up the tour with thoughtful style and a new perspective on modern NYC life.  The tours are billed for kids aged 8 and up because they do involve listening, sitting, and not touching.  There are also food-sampling tours, live actress presentations on weekends, and an overview documentary behind the gift shop.  There are occasional free tours, these fill up far in advance but they're a fabulous option.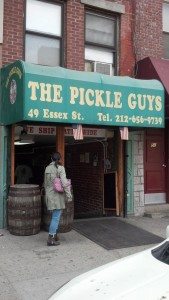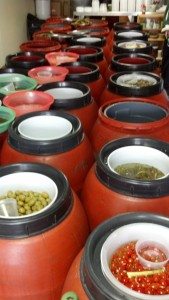 Within a short walk of The Tenement Museum are two fun kiddie food finds.  First, The Pickle Guys.  There was apparently a pickle factory on Orchard Street for over 100 years.  It shut down a few years ago but 4 blocks away some "guys" who apparently interned at the factory started their own store.  It's really a small warehouse full of barrels of things.  You can buy pickled mango, sauerkraut, pickled okra, pickled beans, pickled carrots, pickled olives, pickled tomatoes in many sizes and colors  … plus 8 kinds of pickled cucumbers.  We decided to pay for checked luggage just to bring the pickles back to Seattle with their brine … they're that good!  The pickle guys prominently display a certificate stating that their establishment is under rabbinical supervision, an important reminder of the special importance of Judaism to New York where, at one point, every resident of 97 Orchard Street spoke Yiddish.
Around the corner, we literally stumbled into The Sweet Life at 63 Hester Street.  Do I need to say more? Hold your kids hand, give them a budget, give yourself a budget, and enjoy.  Best chocolate covered apricots I've eaten in a long time.  That one little moment of quality decadence put a spring back in everyone's step.  While you're down at the bottom of the island, take in Chinatown, the boutiques that seem to be springing up everywhere, and Little Italy.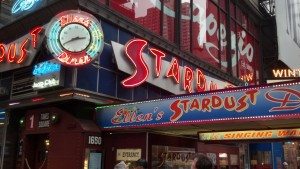 For the best affordable entertainment in the city, head straight uptown to Broadway and 51st street where you will find Ellen's Stardust Diner, another slightly lesser known destination that drops you straight into the heart of Manhattan.  It's decorated just as a diner should be and the food is fine, a little pricey, not too healthy.  But the entertainment rocks! And sings Broadway!  And last night there was even a little country too!  Every waiter or waitress (when I was employed in a restaurant, I was called a "waitron" for gender neutrality.  Thankfully that politically correct fad has faded away), is a wanna-be Broadway Star.  They serve your food while they dance around the restaurant, jump up on a runway between the booths, and belt out a tune into a cordless microphone.  During one short announcement, the waiter declared that every show currently running on Broadway included at least one former wait staff from Ellen's Stardust Diner.  The kids can clap, sing along, eat grilled cheese, and shake hands with the performers.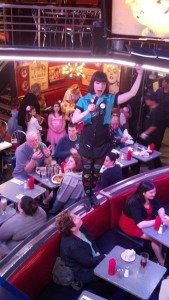 The singers rove all around the restaurant but request a balcony seat where you can look down on the singers for the best vantage point.  My own daughter was mesmerized with an engaged glow from the minute we sat down.  I looked around the room and noted that she was not alone.  There were tables full of mesmerized elderly folks, other families with stunned children, toddlers looking happy, and even enthusiastic, smiling teenagers celebrating a Sweet 16 birthday.  Watching the waiters and waitress interact jovially with each other and sing their hearts out to a restaurant full of tourists, locals, kids, grandparents, and maybe, just maybe, a talent scout, you can feel the dream and the hope that brings so many talented people to the city that never sleeps.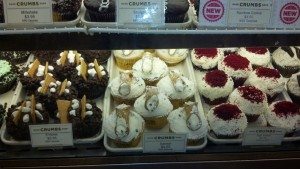 Note: If the chocolate, pickles, and burger didn't do you in, head to Crumbs in Herald Square for every flavor of cupcake your heart desires from Cannoli to Spring Break Margarita. And furthermore, if you can't physically get to New York City, you can order pickles, cupcakes, and candy on-line!