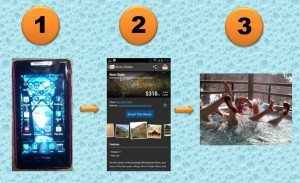 Dwellable has a great new look! What is Dwellable? A nifty app for finding rental houses all across the country.
This past winter, I was bored and waiting for my daughter to finish up at the physical therapist.  I downloaded the Dwellable app (Sync!) and started looking for a getaway cabin (Search!).  And, voila, I ended up in a hot tub (Soak!) at "The River Chalet". Note: If you read that with a french accent, it sounds even better.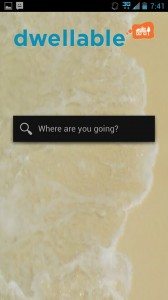 Dwellable was good then.  Now, it's new and improved.  How? First off, it starts with calming waves.  Now, I have to admit that I liked the crisp square pictures but there are just too many destinations for squares now!  That's the second big improvement, Dwellable now covers the whole USA.  They seem to be adding new properties by the minute.  In fact, I checked for houses on Cape Cod a few months ago and I checked again today.  Lots of new houses just in West Yarmouth alone! Third, it's still fast and maybe even faster.  Unlike other phone apps where I can doze off while waiting for something to load, Dwellable zips along.  It's so fast, I can actually start searching for house rentals in line at the grocery store. Fourth, the houses are great! Staying in a house while traveling with kids can be easier and cheaper than staying in a hotel.  Playing around on Dwellable helps make it happen.
Is there anything I don't love?  Well I used to really not love the filter icon. It looked a bit like the offspring of a tornado and my internet strength signal.  The icon is better but it's still a bit mysterious.  If in doubt, click the funny filter icon. That's all you need to know. Second, when using Dwellable, you need to realize that it is a front end. Your actual negotiations will be with various rental companies and owners across the country.  If their calendars or prices aren't up to date, neither is the information on Dwellable. That's not really a problem, it's just a reality of working across multiple listing agents, states, and systems.  I've had success finding houses all over the country and for multiple group sizes. I also enjoy recreational house searching.  You know, just dreaming and looking and imagining the possibilities.
So, back to the hot tub!  How did it actually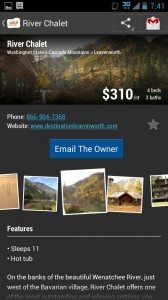 work?  I looked at the map to see how many houses were nearby our group getaway destination and I found the house by filtering for 4+ bedroom houses near Leavenworth WA with a hot tub.  I sent an e-mail through Dwellable to Destination Leavenworth.  They called me back within 10 minutes and we had a party in the making before I left the physical therapist's office.  The house was absolutely gorgeous.  Three families could all relax by the woodstove or on comfy couches overlooking the Wenatchee River.  We had enough space to play games and host a group dinner.  It was so nice that some of the senior members of our group actually considered learning what an "app" was in order to be able to search for more rental houses!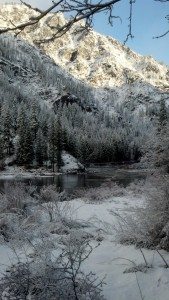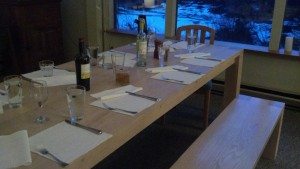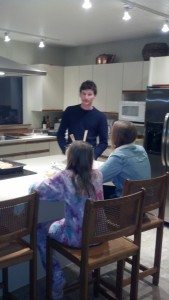 We all enjoyed a great dinner in Leavenworth, skiing at Steven's Pass in the rain – but no lift lines!  And skiing at Mission Ridge in the wind – again, no lift lines.  So, really, it was Sync! Search! Ski! Soak! Eat! Drink! Sleep! Ski! And Soak again!