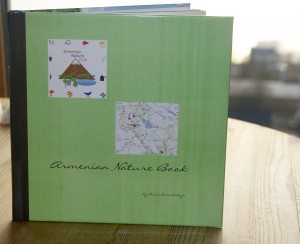 We started taking the kids on international trips when our daughter was only two and a half, and it doesn't surprise me that now, 8 years later, she doesn't remember much about that trip.  What did surprise me was how fast the memories can slip away, even for older children.  Along with all the other fabulous tips and tricks in Ashley and Bill's book, I really enjoyed the suggestions for how to keep the travel experience alive after you are home.  My favorite souvenirs are those that tie to a special experience from the trip, or those that are created.
Sometimes you can stumble upon a special souvenir.  In Switzerland
we found a small store that had an English version of a children's book by a local author.  They also had a handmade doll of one of the characters. We bought both. Eight years later the doll from this town remains my daughter's special travel companion, and the doll has traveled to every single country with us.  The doll, Florina, also started a love of handmade dolls which has been shamelessly encouraged by her mother. My daughter now has handmade dolls from Russia, Armenia and Portugal – all purchased on trips.  We keep our eyes open for new opportunities.
Another idea is creating souvenirs.  Ashley and Bill discuss in Chapter 8, you can use the photos you've taken to create photobooks, calendars and screen savers.  We've used this idea to help get our daughter more involved in some of our trips. We even let her create her own photobook.  Due to our interest in nature, we often spend a lot of our travel time hiking and exploring natural areas.  On a trip to Armenia where my husband was going to be working part of the time, our daughter (age 9) decided to create her own nature book.  She took pictures of different flowers, butterflies, and any ani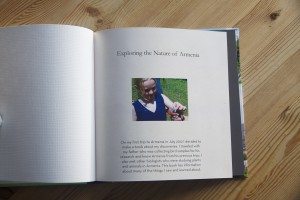 mals we saw.  We identified them as best we could from guides, locals and knowledgeable friends.  Once back home she selected the photos for upload, and after a little help getting them uploaded, created the book on her own.  We set a limit for size and pages (to control the cost), answered questions, and did a final check for possible problems or spelling errors.  Now she has a wonderful memory of the trip, a healthy knowledge of the flora and fauna she observed, and a book with her name as the author.
These self-created souvenirs are even possible with young children. When our daughter was pre-school aged, we saved memories of trips and her artwork, by sending ourselves postcards.  While on the trip, she could chose a postcard of something she really enjoyed.  Even as young as 2 ½, she had a strong opinion about postcards and enjoyed drawing a picture of our trip on the card.  While it usually needed a small explanation at the bottom for later identification, it became a memory of the trip and her art at that age.  Many countries also have special stamps for postcards, often of famous parks, monuments or famous people.  Trying to buy a stamp and mail a postcard can also be a fun window into local life in a foreign country.  A small photo album is a good place to keep all the postcards once you get home.  The best photo albums have clear sleeves so that both sides can be viewed.
Finally, I have to mention our success with a travel journal.  I never had a diary, and always found 'journaling' a bit of a chore – something that teachers make students do when they want to assign work without creating an assignment or being responsible for grading. You can tell that I'm a bit biased.  However, after reading Ashley and Bill's book I decided to try it with my daughter. Her birthday was a month before a big trip we had planned, so I bought her a special, fancy journal with a magnetic cover to bring along.  I decided I would suggest the idea, but refused to make it mandatory.  To my surprise, she seemed to really enjoy writing in the book and would voluntarily describe her favorite parts of the day, usually with hand-drawn pictures.  It was interesting to discover which things she found memorable enough to warrant documentation, and it filled time while her parents were checking emails, downloading photos, or cooling off under the air conditioning.  The journal is yet another created souvenir and something we will use in the future.