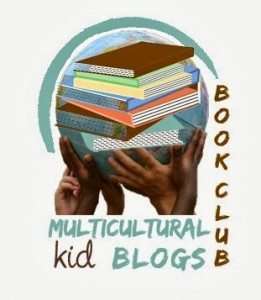 I'll start this week's chapter chat with a joke my kids told me:
What do you call a person who speaks two languages? 
–       Bilingual
What do you call a person who speaks three languages?
–       Trilingual
All right then.  What do you call a person who speaks only one language?
–       American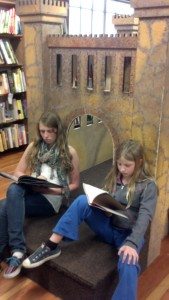 And, just to be clear.  That's "American" with a derogatory tone.  I'm so proud that my kids think this joke is funny!  When I was in college, I took a seminar in which we had to describe the three things we really wanted to give our children.  I don't even remember the first two things I listed.  Most likely something like "a roof" and "love".  But I remember the somewhat desperate feeling I had about the third thing – "a second language." I knew even then that my horizons were limited by my monolingualism and it seemed daunting to dream of doing better for my own kids.  As you can imagine, when Multicultural Kid Blogs offered up a book club on Bilingual is Better by Ana Flores and Roxana Soto, I jumped at the chance.  I picked Chapter Two: Why Bilingual is Better.  The discussion of Chapter 1 was sparked by a great post hosted by Spanish Playground.
Chapter 2: Bilingual is Better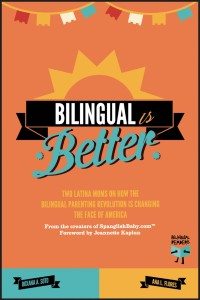 In this chapter, Ana and Roxana present the evidence – the science, the passion, and the personal anecdotes – ­that build a case for raising bilingual children. They start by debunking common myths about the risks of bilingualism.  They go on to convince the reader with scientific studies on the advantages of bilingualism for everything from concentration to reading speed to cardiac health.  They conclude with their own personal anecdotes and experience raising bilingual children.  The very end of the chapter is interactive.  They ask the reader to be explicit about their own reasons for raising a bilingual child.
Personal reflections
So, what are our reasons for raising bilingual children? Wait, wait, you ask … aren't I a monolingual American?  My cultural heritage includes a pilgrim ship, New York City, and macaroni and cheese.  My husband brings the Great Lakes, maple syrup, hockey, and two years of high school German – 'Das klavier ist kaput!'.  What happened?
We moved to the suburbs of Seattle about 12 years ago, pretty much kicking and screaming.  My job was near the city; his job was in the mountains.  We simply divided one horrific commute into two unpleasant ones and found a house we could live with.  I'd like to say that, as good parents, we planned this move to land in an amazing school district with a wondrous Spanish immersion program.  We actually didn't even consider schools when we moved.  We could have ended up in a pretty difficult situation.  Instead, we won the lottery – literally.
When we first heard that there was a public Spanish immersion program (well after we had committed to the house), we thought we were fantastically lucky.  My husband dragged our less than three year-old daughter to the kindergarten information night and we fell in love with the school, but you can only attend by lottery.  When she was finally the right age for kindergarten, we hopefully put our name into that lottery and … whoops … we came up 53rd on the waiting list for about 35 spots.  We gave up and we tried not to look back.  Half way through first grade, we got the call ­- "Your daughter's name just came up for a place in 1st grade in Spanish immersion.  Can you please tell me by tomorrow if you want the spot?"  Chaos ensued.  We begged for 48 hours; we talked to everyone we knew; we cried at the thought of leaving our current school community; we visited the school and thought -"It's too late.  We have no idea what the teacher is saying.  Our daughter speaks about four words of Spanish.  It's impossible." But then we brought our daughter in. She listened.  She watched kids her age, native English speakers, interacting in Spanish, and she said "I wanna' do that!"  What?  We assumed she would be scared or intimidated but at six years old she knew.  Learn the language or be locked out.  We enrolled her and scored a spot for her little sister through the sibling preference program.  They're in high school and middle school now and as close to bilingual as the offspring of three plus generations of monolinguists can be.  With the Spanish language has come culture, travel, new words and ideas, and a wonderful, prideful sense of identity.
At the end of the chapter, I was fascinated by the personal statements of both Ana and Roxana.  Their drives for bilingualism are so closely tied to family and cultural heritage.  I'm embarrassed to admit this but I really didn't understand the cultural pressure on families not to teach, speak, or encourage bilingualism.  It's something I had always wanted and didn't really understand why so many immigrant families didn't support it.  I'm saddened by what I read in Chapter 1 but, perhaps, re-energized to speak more loudly and more often about what a gift bilingualism is and about how much our family values the Spanish language and the many cultures and ideas it has brought into our home.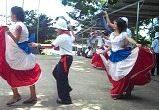 What are the reasons we deeply believe that bilingualism is a gift? First, each language you learn opens a door to people you couldn't otherwise know.  Language is a portal.  I wish for my children that they can choose their life's friendships from all the wonderful people in the world.  Second, words and ideas are intricately tied.  It's hard to have an idea if you don't have a word for it.  For example, there is a word in Danish, "hygge".  It translates to something like cozy, or intimate, perhaps relaxing or even "full of connection."  It can refer to a dinner nook or to a whole evening and it's an idea we simply don't have in English; yet, we all enjoy a hygge evening with friends.  So, more words, more ideas.  More grammar, more ways to link ideas.  Thirdly, language carries culture.  By learning Spanish, our children have a latina tongue.  OK, it's not blood.  They don't have any biological latina heritage.  But, they are first generation latina culturally and linguistically.  They mock and are embarrassed by our efforts to speak Spanish publicly and they feel that they have a passport to all the Spanish-speaking countries of the world.  It is the gift I dreamed of giving them so long ago.
Lines that spoke to me
We are born with the innate ability to learn more than one language, yet we, as a culture, prefer to ignore such amazing brain capacity … (p 68).
Yes!  There is a piece of me that simply wants my children to exercise their brains, to have a challenge as they learn, and to increase the flexibility within those brains for other ways of thinking about and imagining the world.
"One who speaks only one language is one person, but one who speaks two languages is two people" – Turkish Proverb (p 81).
What can I say? My first thought when I read this was, "Uh-oh we're a little late in introducing a third language.  We better get started." 
Questions
– What is the primary reason that you are choosing to raise your children bilingually or choosing not to?
– What kinds of research and evidence did you consider before making your decision?
– What other languages aside from Spanish and English do you wish for your children and why?
Post your ideas in the comments below or follow the conversation on our Google+ Community. You can also link up your blog post about this chapter.