We'd love to visit Cuba.  Given the obstacles, it's not in the cards for us at the moment but we're working on experiencing Cuba anyway.  We've made Cuban found, explored Cuban artists, and hosted a Cuban dinner for close friends who recently took their kids to Cuba.  We followed it all up with a Cuban family movie.  Cuba, Cuba, Cuba!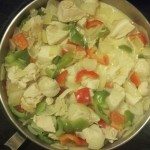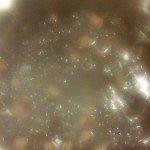 Experiencing Cuban food was a fabulous success.  We found recipes at www.tasteofcuba.com and assembled three into a special dinner.  The most essential element of the meal was Cuban Black Beans or Moros y Cristianos.  Black beans sound boring but these are not; they are complex and delicious.  They also sound vegetarian.  They are not.  The recipe calls for a pound of smoked ham hocks and a lot of chicken stock.  The beans take a long time to cook and they smell delicious all along the way.  They were too steamy to photograph well but perhaps the steam captures something of the essence of these delicious beans.  While the beans were cooking, I prepared an avocado mousse.  This recipe brought me back to the 1950s (not that I've ever been there except in sit-coms and movies).  It's a chilled mousse in a mold!  We don't own a ring mold so we substituted a thin pie dish and decorated with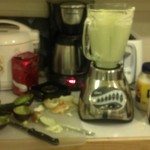 thin slices of star fruit.  I think Mary Tyler Moore would have been proud.  Lastly, I started in on the coconut chicken.  My kids are fans of coconut in all possible forms so this was sure to be a crowd pleaser.  I skipped the red pepper flakes and found the recipe joyously simple … and tasty too.  Best of all, the kids loved it!  Note that I prepared the whole thing in a skillet. I cooked the chicken almost all the way before I added the coconut and then just let it simmer until my patience ran out.  If baking as suggested could make it more delicious, I'd be surprised.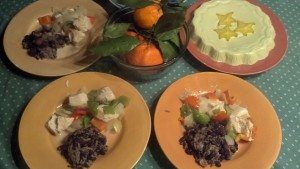 For the table, I bought full size coconut leaves from the freezer section of our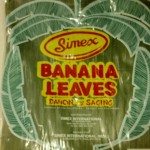 local Asian grocery.  They need a good sponge bath before setting the table but they make the best table cloth ever.  I also included a bowl of oranges with their leaves still on.  I don't know if that's really something one might find in Cuba.  They were on sale at the Asian grocery and they looked spectacular and a bit exotic.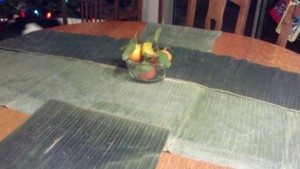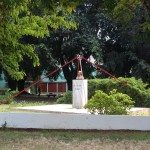 After dinner, we enjoyed a slide show and lots of travel stories.  How did our friends enjoy Cuba with kids?  They loved it!  Their 4 year old boy was entranced by the "coconuts", motorcycles converted into multi-person carriages.  Their 9 year old daughter relished the service-oriented beach resorts.  Who wouldn't?  Everybody loved the intermingling of horses, "coconuts", cars, bicycles, and motorcycles on the roads and highways.  The locals were friendly and welcoming.  Restaurant owners helped entertain the kids while the adults finished delicious dinners.  There were statues of Ho Chi Minh, shortages of goods, and a legacy of isolation.  What impressed our friends the most was the lack of industry. There were oil refineries on the horizon but the locals explained that most no longer functioned.  The refineries had been built by the USSR and abandoned.  Although their kids were a little young for political lectures, Cuba seems like an amazing political experience for teens.  Even on a virtual trip to Cuba, great discussion questions just jumped out at the family dinner table.   Why can't Americans travel to Cuba? Do they vote in Cuba?  How does Cuba's political legacy contribute to the culture today?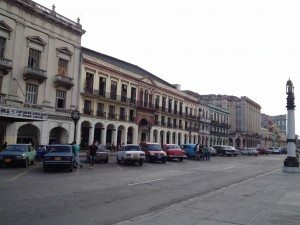 The finale of our virtual trip was a film, Viva Cuba!  (available for streaming on Netflix).  It's a beautiful story of a boy and a girl, best friends, who come from different family situations and run away to preserve their friendship.  Together the children travel across Cuba and viewers get to enjoy the scenery along the way.  Like many non-American films, the ending is somewhat ambiguous – perhaps not the happy ending your kids are used to?  So be ready for some discussions about what choices the children had and what the filmmaker was trying to convey.
It hasn't been a real trip but we've tasted, sampled, and enjoyed a bit of Cuban life while we figure out how to get there for real.  If you're going for real, check out this wonderful website on Cuba.  Friends have successfully used it to find itineraries, activities, restaurants, lodging, and more.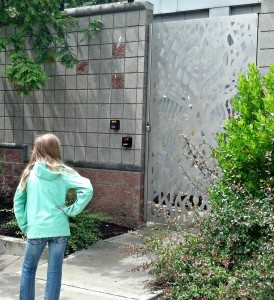 Cooking photos by Ashley.  Cuban photos courtesy of our family friends. Thanks!