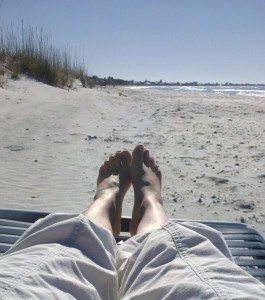 Cost U Less travel, Cost-U-Less Travel, or CostULess Travel is a "travel program" pitched like a timeshare condominium.  We received multiple offers in the mail advertising an "opportunity" to receive two free airplane tickets and two nights in a hotel in exchange for hearing their pitch.  We love traveling and though we're not really interested in timeshares, curiosity finally made us cave and we called to learn more.
The woman on the phone was friendly but mysterious.  She would tell me nothing about the free gift (those free plane tickets and hotel rooms that sucked us in) and seemed to know very little about CostULess except that (1) it's spelled with a "U" instead of a "You"; (2) it is NOT a timeshare; and (3) it's a discount travel club.  I imagined something like a travel Tupperware party and decided that, at worst case, it was only 90-minutes and we could blog about it.  How bad could it be right?
"Yes, we'll go," I said and then she replied, in much the tone of a 4th grade teacher, "Wait, I need to see if you qualify first."  I answered some questions – you know the ones about marital status, income, and employment – and, voila, we qualified.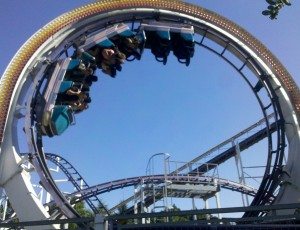 Phew – what a relief right?  She then gave me some insanely explicit directions which I tried desperately to interrupt – I live here, I know where Post Alley is, and I have a GPS – but it was no use. I had to listen to the directions.  I also had to agree that I understood the doors would lock at 7:45 even though the 90-minute presentation started at 8pm (wait, wait, isn't that 105 minutes?) and I had to agree that I understood that children and pets were not allowed.  Too bad, I'm sure my teen and my pooch would really love this … not.  For agreeing to an appointment time right then, we were also offered an additional $100 gift certificate at Restaurant.com.  I searched for more information and all I could find was http://sav-u.com/travel.html.  I don't know.  Is this even the same company?
They called again the night before and gave us directions… again!  And they reminded us that we can't bring our dog.  OK OK OK – I got it! – she doesn't want to go.
And, we went….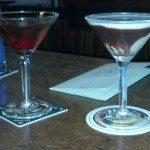 After a few drinks and a nice dinner out, we arrived at a lovely address right in the chic heart of Seattle.  We were greeted by friendly staff and a pot of free coffee.  There were couches discretely spaced into clusters and forms to fill out about past trips and dream vacations.  We were then escorted into a room with a projection screen and six or seven little tables, each with exactly three chairs.  A polished salesman sat down in the third chair at our table and spoke with us for five minutes or so and then the slideshow began.
CostULess is a travel "program" in which you can purchase weeks at timeshare condos, cruises, and travel packages at pre-negotiated prices.  The prices seemed like screaming deals and they showed us their Better Business Bureau A+ rating on a print out; however, since I had found little about them on-line to verify any of what they presented, I remained skeptical.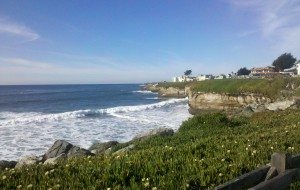 Apparently, members of this travel club can call a phone number or get on-line and book all sorts of cheap vacations.  Members can stay at hotels or B&Bs, they can get rental cars, and all sorts of adventure packages.  There was no way to actually figure out what was available or what the trip I wanted to take would actually cost.  The screaming deals they showed us in the slide show were all for luxury resorts, tour packages (now, to be fair, there were some less intrusive tour packages and some fun activities included), and cruise ships.  At one point the presenter showed a picture of a huge cruise ship and asked me, specifically me, if I wouldn't love to take a cruise through Hawaiian Islands.  I think they lost me there and they knew it because I was quick to answer intuitively, "No".  "Why not?", they pushed on.  I had no answer that they would ever understand and I felt a bit rude. Really, I would rather stay in a tent than stomp on those beautiful islands with a giant ship full of casinos, buffets, and swimming pools.  They were quite honest that their service offered few discounts on domestic airfares (which they claim are impossible) and only moderate discounts on hotels, B&Bs, and car rentals.
"Wait, wait you also get this handy dandy ginzo knife" (I think you have to be about 45 years old to understand that reference to infomercials for knives that pervaded my high school experience).  If you join this travel program or club, you also get access to last minute (within 60-days) condo weeks AND you can invite two other households to participate at no cost AND you can bring as many guests as you want with you on your luxury vacation too.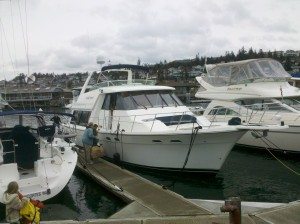 What do they want for all this?  Well, the buy-tonight-only-deal was $9900 plus a few hundred for document fees and then an annual fee of about $199.  We did not seem impressed and the price started falling.  Instead of the right to buy four cheap weeks at a condo, you can get the right to buy three.  Instead of three weeks you can get two.  We still weren't impressed and they brought in a new salesman with new and cheaper options for our evaluation.  Instead of two weeks, you can get just one.  Instead of a lifetime membership, you can get a trial membership.  Eventually, they were asking for a total of $1898 for a three-year trial membership with the right to purchase (I think) two discounted condominium weeks per year plus all the other ginzo-knife perks above.  But, in truth, we don't want to stay at a luxury condo and we don't want to take a cruise to Hawaii and the program just isn't for us.
Overall, it seems disappointingly like just another timeshare sales pitch.  Instead of paying up front for points you can trade in for a free week with relatively high annual dues.  You pay up front for the right to a discounted rate for the week and you pay lesser annual dues.  Timeshares began as actual condos and actual weeks.  They evolved to a point system.  Now the idea has evolved further to a discount travel club.  I can't remember what we were told at our last timeshare sales pitch but I think it included those cheap last-minute condo weeks and deals on cruises and other vacation packages too.  Aside from the printed paper displaying their A+ rating and the fancy street address, there was no other evidence that this was a legitimate company.  It may be but it may not be.  We did find their real website on a business card: www.costulesstravel.com.  It has nice pictures and enticing explanations but still no details.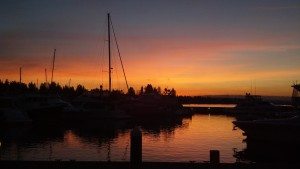 And what about our free plane tickets, our free hotel rooms, and the $100 gift certificate at Restaurant.com?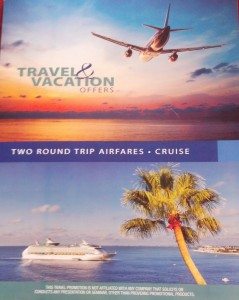 They gave us a color brochure with a postcard that we had to cut out and mail in (with $4.95) to get our registration packet.  It looks like we'll pay a $50 reservation fee and then a $50 per ticket ticketing fee so those tickets aren't looking so "free" after all.  There will be more fees for particular days and particular destinations but even after reading A LOT of fine print, that's all I can decipher for now.  We might get a free 3-day cruise too but there are fees for that and few details.  "The check is in the mail" as they say.  Our check for $4.95 that is! We'll report on these "free" gifts as soon as our registration packet arrives.  They apparently didn't have the Restaurant.com gift certificate but promised to mail it to us right away.  We'll let you know if that ever happens … nothing has arrived in our mailbox yet.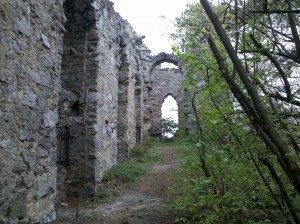 Are we glad we went?  Well, sure.  It was a fun evening and it made us dream about travel (our way). It was no travel Tupperware party and the sales pitch was a bit more intense than we expected but it wasn't torture either.  Thinking about giving one of these a try?  We'll be posting tips on how to enjoy high pressure bargain travel sales pitches ASAP and more details on our "free" gift as we untangle our reward.