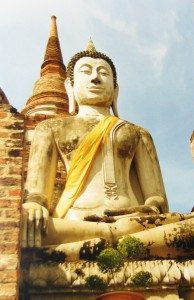 Next week my family is heading for Thailand for the Christmas holidays.  We are all very excited to be heading to a destination that combines unique culture and great people with delicious  food and tropical beaches.  This will not be my first Thai experience however, but that does not make it any less exciting.
I first went to Thailand in 1989, on my way east from traveling for several months in Nepal and India.  I was initially disappointed at how easy it was to get around.  I could jump on a water-bus on the Chao Phraya River to get to most places that I wanted to go in Bangkok.  Or catch on a cheap minibus on Khaosan Road to get to almost any place in the country that a backpacker would want to go – north, south, east, or west.  There were no people aggressively asking me for money or competitive jostling in long lines to buy tickets.  It took me several days to relax.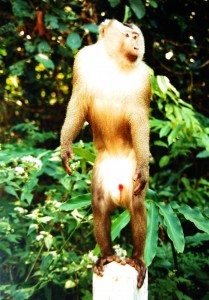 I came back in 1993, again on my way back from Nepal.  Between the two trips I spent several months in Thailand and now have a hard time keeping the trips apart without consulting the journals I kept that are lost on a bookshelf in the basement somewhere.  I went north from Bangkok to Chang Mai, Sukothai and Ayutthaya.  Southeast to Ko Samet and southwest to Ko Phi Phi.  I went to Ko Phangan the first time, and Ko Tao the second.  I remember this because a ferry terminal was built on Ko Phangan between my visits, changing a mellow vibe to one of busy tourism.  I had to go farther out to find relaxation.  I passed though Hat Yai several times, on my way south to Malaysia, Singapore, and Indonesia.  Or just to renew my Thai visa by getting out of the country for a moment.
I remember riding a bicycle around the beautiful sights of Sukothai, taking a very loud long-tailed boat out to Phi Phi, drinking Mekong whisky late at night in a grass bungalow, and eating lots of fried rice.  I remember loosing my copy of A Tale of Two Cities on a fishing boat (I still haven't finished it), and getting a painful massage at a school at Wat Po.  I loved sleeping under a mosquito net, and was amazed at the size of centipedes near the beach.  I learned a lot about Buddhism.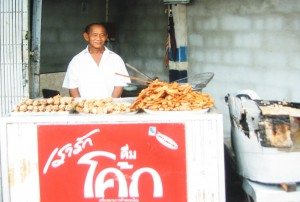 Maybe my best memory is of a beach hut on Ko Tao.  It sat by itself on a tiny ridge between two small secluded beaches.  The hammock on the porch had a great view.  By day I would read and write, and walk around the island.  At night, I would go swimming from my own beach into the warm shallow water where bioluminescence sparkled.  It was glorious.
The people of Thailand have also been great to me.  Seemingly always friendly, they are generally easy going and quick to smile.  I remember spending an evening with a couple of college students that I met in a Bangkok park, eating food I'd never had before from a street cart serving people in a grassy clover-leaf between busy roads.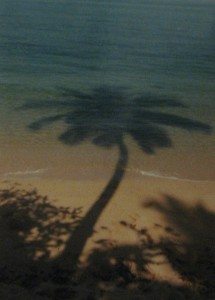 I also remember meeting a beautiful Thai girl one day while having lunch at a restaurant.  She showed me around town all afternoon on the back of her scooter.  She was very careful to retrace our path on the way back to dropping me at my guesthouse so that people wouldn't get the wrong idea of her spending a day with a foreigner.
I came back to Thailand again in 1995, this time to stay for six months as my girlfriend (now wife, Ashley) had a year-long fellowship to teach kids in a southern Thai province about the ecology of rivers.  I had written a couple of letters before I left home looking for some wildlife work, and had a response from a professor at a university in Hat Yai.  He needed some help with some classes and I could help with teaching field sampling techniques in English, kind of a 2-for-1 deal.  So I found myself commuting between the Yadfon Association in Trang and Prince of Songkhla University.  Ashley had a row house in a small cluster of condos, right across the alley from Yadfon.  And I had a room in the faculty dorm at school.  It was a couple of hours drive between the two.  I started out taking any transportation if it was cheap enough – motorcycle taxi, minibus, taxi.  But after seeing many terrible accidents I decided that a big bus was the safest way, regardless of price.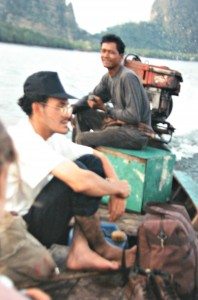 Initially, I spent a lot of time at the university library trying to learn more about Conservation Biology and Tropical Forest Ecology, the two classes that I would be helping to teach.  I was lecturing in English and most of my professional interactions were also in my language, but eventually I was able to have an extended conversation in Thai.  It was the same conversation every time though, and whenever things got technical I would have to revert back to English.  The two professors I worked with had both spent time in English-speaking countries, and they were instrumental in showing me around and making me feel comfortable.  My desk was in an air-conditioned office, the benefits of which cannot be overstated, and I received a small stipend to offset my travel costs.
My students that were relatively fluent in English were also awesome, even when I asked them to follow me through waist-deep water on a field trip to a mangrove forest, or dig into mountain soils with hidden unknown creatures in it.  The others may have been great too, but we communicated less easily.  Eventually I ventured out to a campus basketball court after work and became a regular in the pick-up games.  And I tried playing tekraw (a hybrid of volleyball and soccer), but my volleyball instincts did not serve me well.  Usually next to the tekraw court was a tethered bull water buffalo.  I never got the ball when it went anywhere near him.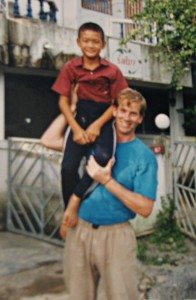 Over time, I developed regular places that I ate.  There was the stall at the outdoor student cafeteria where I ate curry for breakfast, the stall at the hospital cafeteria where I ate vegetarian curry for lunch, and the late night market where I had fried chicken and curry for dinner.  I never got tired of the food!
After six months I decided that I didn't want to go home yet, so I stayed until the end of Ashley's fellowship.  I helped her a little at Yadfon and spent some great days in small fishing villages, learning about mangrove and coral reef ecology.  We got to travel a little, taking a boat down a river near Chang Rai in the north, seeing wild elephants in Khao Yai National Park, and rafting down a river in Sumatra.  We were lucky enough to be in Ayutthaya for the celebration of the King's birthday, and found some beautiful and remote island beaches.
The period of my life when I was able to spend a lot of time in Asia transitioned into a domestic career and family life.  It has been 18 years since I've been to Thailand.  The people that I worked with there are no longer on the University website and our holiday cards have long since been returned.  But we have kids now that we are eager to show the world, and some of our Thai friends are happy that we're finally able to come.  It's going to be an exciting trip back!