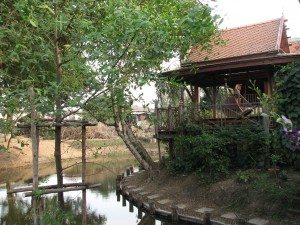 Looking for the perfect place to stay with your family?  Explore Ayutthaya from affordable, interconnected rooms in Luang Chumni Village.  We were offered no special promotion to review this wonderful guest house.  We were simply lucky enough to stumble on it.  OK, Bill found it on-line after a bit of research.  I was simply lucky enough to be traveling with him.  The "village" is a traditional Thai house surrounded by water and is tucked along a quiet street.  It's just a short walk from the famous statue of a Buddha head in a tree, nestled among exciting ruins.  Ayutthaya was the capital of Thailand for 417 years and is now a UNESCO World Heritage Site containing many temples and historic sites.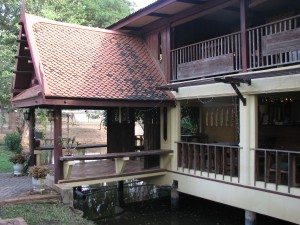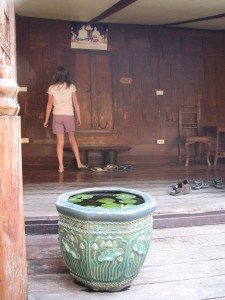 The superior rooms at Luang Chumni Village apparently offer more privacy than the standard rooms but we reserved two standard interconnected rooms and simply couldn't have asked for more.  Climb to a balcony with a quiet hammock and several comfortable chairs; enter the rooms through a small old door that opens on a tiny hallway.  Watch your head!  Two air-conditioned rooms open from the hallway and create a semi-suite for four people.  Mosquito nets hang over each mattress and each ceiling sweeps up to the traditional peaked roof.  Each room has it's own private bathroom downstairs with a hot water shower, a western style toilet, and a sink.  There are a few mosquitos in the bathroom to make it authentic.  You wouldn't want to forget that you're in Thailand.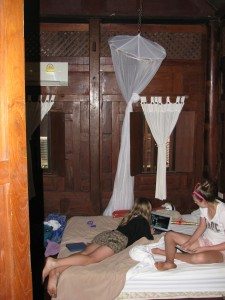 The staff are friendly and helpful.  They organized a sunset boat tour including a visit with elephants getting a bath (if that's not a family travel favorite, what is?), recommended activities for each day, helped select restaurants, and planned our taxi to the airport for the morning.  Breakfast is included – eggs, toast, coffee, and a scrumptious fruit plate.  They offered the kids corn flakes, hot milk, and hot chocolate.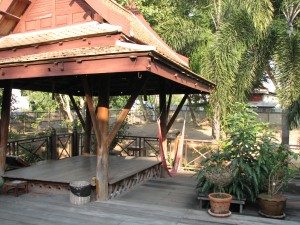 We've squeezed our family into all sorts of lodging but this seemed actually to be designed with families in mind.  Perfect!  If you go, tell them that you heard about Luang Chumni Village at Family on the Loose and tell us what you think!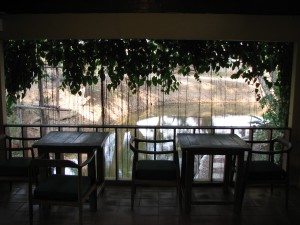 Note: Bill corresponded with them directly via LuangChumniVillage@gmail.com and then paid in advance through their website.  There are only six rooms at present so when we showed up as a family of four they greeted us by name!