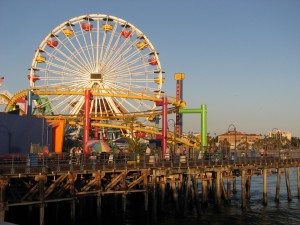 What will you do for winter break?  Spring break? Or even to celebrate the end of school in June?  Frequent bargain airplane deals to Los Angeles make this a super-fun, teen-friendly destination.  We went last April and now the kids are clamoring to return again this Spring Break.  Here's some ideas to make it a little more fun …
1. Leave time.  L.A. is a very big city.  No really.  It's over an hour from one side of town to the other – and that's without traffic.  Do not try to cross back and forth, move quickly during morning or afternoon rush hour, or walk.  At all costs, do not try to walk!  (Except on the beach).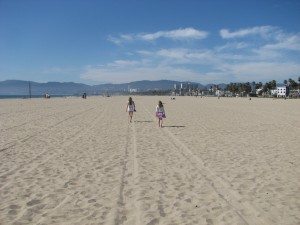 2. Hunt in the stars. Hollywood Boulevard is fun but a tad seedy and longer (and possibly hotter) than you might expect.  Make a list of 10 stars to look for as you go.  It's not possible to walk by without taking a lot of star photos.  Who knows what your teen will ever do with those star photos but let them linger. Don't rush.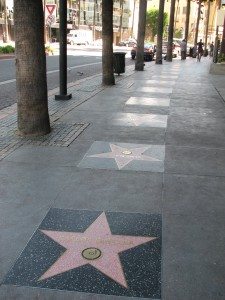 3. Go Gidget! First of all, you might want to rent the movie for a pre-trip family evening. Or, watch it in the hotel room on a laptop.  Gidget is a classic and provides a little "historical" context for a day or two in Santa Monica.  Next stop, a surfing lesson!  There are plenty of surf school options.  Our morning with the Santa Monica Surf School was the highlight of the trip.  Bring sunscreen, a bathing suit, patience, and a camera.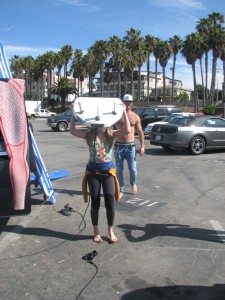 4. Don't Hop Off. Pick one day for the Hop-On/Hop-Off bus tour.  They sell multi-day passes at a steep discount but there's a reason for that.  One day is enough.  Pre-purchase the one-day pass on-line for a discount.  The bus doesn't circulate frequently so limit the hop-off part of your day.  Better to just grab a snack and a drink, climb the stairs to the sun-drenched top floor, and relax while you view the sites and listen to the stories.  Also note that stops are poorly marked on the street (if they are marked at all).  You can't easily wander and expect to get back on bus a few stops down the way.  If you must get off, get back on at the same spot.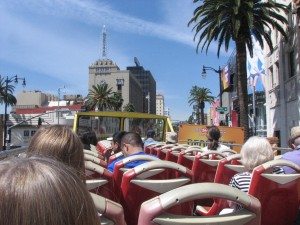 5. Sharknado.  I don't know.  Just watch it before you go.  The Ferris wheel at the Santa Monica pier will be so much more exciting if you do.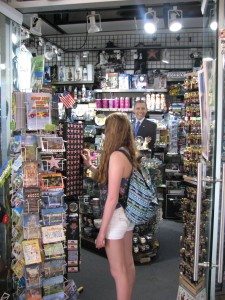 6. Make your own spa. A visit to LA inspires indulgence.  Sadly, we cannot necessarily afford all the indulgences LA has to offer.  But we can still enjoy.  Make sure your hotel room has a bathtub and bring a bath spritz (?) for every family member ready to indulge.  Bring a face mask from home, add slices of fresh cucumber to put over your eyes (yes, make the boys try this).  In-room pedicures or manicures are easy to add to the menu.
7. Take a seat at Venice Beach. Of course, it's nice to stroll up and down, browsing the souvenir stands and artist booths but the whole experience can be a lot for teens.  There's a plethora of medical marijuana dispensaries, too many black henna tattoo stands to shake a stick at, and so many cheap imports from Mexico you may wonder what country you're in.  Instead of passing through, let the sites pass by you.  Figtree's Cafe with its selection of sunny and shady outdoor tables, long list of local beers (for parents), and organic delicacies is a great place to unwind and enjoy the show.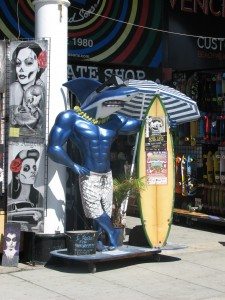 8. Sample Rodeo Drive. It is a real experience to wander in and out of the boutiques on Rodeo Drive – a little intimidating at first.  Some readers may be able to buy their clothes on Rodeo Drive but we were just happy look and also to find one or two shops where we could afford to buy.  Check out the Sugarfina candy shop (technically just of Rodeo Drive) with walls of pleasingly boxed candies, free samples, and helpful staff.  The candy may be overpriced but you can splurge on a little box of something for the experience and, more importantly, the awesome little "Sugarfina, Beverly Hills" shopping bag.   Just a block beyond, find the Ice Cream Lab!  This is an awesome experience that, if you squint, could even be labeled as semi-educational.  Start with cream and add whatever fixings sound fun.  Watch it get processed in a nifty machine that sends smoky nitrogen gas shimmering out horizontally across the floor.  Fresh ice cream made on demand.  Just go.