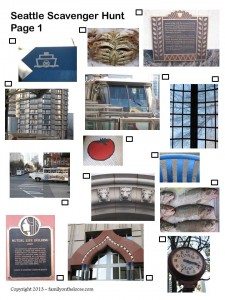 Planning a visit to Seattle?  Or do you live in Seattle and want to enjoy a downtown day with your kids?  Our awesome photo scavenger hunt will keep your kids walking, happy, and engaged!  Actually adults like it too.  It's just plain fun and helps anyone enjoy the details of our fabulous city.
The area covered by our scavenger hunt is the downtown core.  Walk on 1st Avenue between Pike's Place and Pioneer Square.  As a round trip, you will want to come back along 3rd with short detours to see the library and the opera hall.  End up at Westlake Center and take the monorail to Seattle Center.  You'll capture all the pictures within this route.  You can get off at Seattle Center (no photos there – makes for a long day) or buy a round trip ticket in advance and just enjoy the ride.
For best results, give your kid (or spouse, fiance, or friend – like I said, adults love this too!) a copy of the 2-sided scavenger hunt with pictures.  Print a copy of the two-sided answer sheet for yourself.
Perhaps offer a reward such as a hot chocolate or a latte when 14 photos are tagged.  Ice cream and/or beer when you get 25 photos!  Note that it's pretty challenging to find all 29 because it's easy to miss one or two along the way and no one wants to retrace their steps just to tag a photo.  Aiming for something a bit less than 100% will make for a more successful outing.
Seattle Scavenger Hunt – Answer Key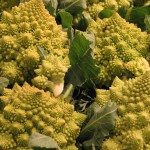 Like this scavenger hunt?  We have a different version that works in any city in our book.  We're planning to make a similar hunt for Boston and maybe add a page three for Seattle Center.  If you like this or if you find errors or sources of confusion, please leave comments!

Seattle on Dwellable