We woke up early on our second morning in Ho Chi Minh City, a.k.a. Saigon, to get a jump on our short exploration of the Mekong Delta. We were halfway through our so-short stopover in Vietnam on our way to Thailand. Always at the top of Ashley's list of travel destinations are the major rivers of the world, and I know that she has been dreaming of the Mekong for decades. On what turned out to be a great suggestion from a traveling friend, we searched up a local guide to facilitate our too-brief Mekong experience. We found Vo Thi Bao Vi (losethetietour.com) who promised an "off-the-beaten-path" tour, which sounded too good to pass up. Vi arrived at our hotel with her driver just at dawn. First stop: roadside banh mi sandwiches for breakfast!
The drive to the delta didn't seem too long since there was a new and interesting landscape passing outside the windows, but we arrived suddenly at a long wooden motor boat without ever passing water. I would soon come to understand that the Mekong Delta isn't so much a river as an entire low-lying region of braided channels. Wikipedia says that there are over 17 million people living in over 15,600 square miles of delta making up the southern-most part of Vietnam. The boat driver and his wife, both in traditional dress, welcome us aboard before we set off down a small tributary. There were fishing boats moored periodically along the banks, and the though the water was quite murky it didn't feel dirty or polluted.
After a short ride we arrived at a compound where we traded the boat for bicycles and helmets. Through this part of the delta, anyway, are a labyrinth of paved trails made for pedestrians, bikes, and motorcycles, but just wide enough for the odd 4-wheeled vehicle. Every once in awhile they bisect a more major road, but biking on these trails is generally pretty friendly. An exception was the bottleneck created at an arching bridge over one of the channels, which made us newbies flinch a little (like get off the bikes and walk across). But we soon arrived at a small village market where the vendors were as interested in us as we were in them. There was a lot of freshly caught seafood, but also the hardware and clothes of daily life.
Another short bike ride away we came to an elementary school, where Vi lead us through the gates into the schoolyard. Soon we were joined by dozens of little kids, feeling a little guilty that we'd drawn them from their studies. But my teenaged daughters were the center of attention, and they reveled in their rock-star status. As quickly as they arrived, the students disappeared back into their classrooms and we headed back to our bikes. On the other side of the village we came to a second school, this one with even littler kids that were much more timid in welcoming us foreigners to their school.
After another meandering bike ride along several canals and through orchards dotted with houses, we stopped at a home belonging to "Uncle" and his family. Standing about five feet tall, Uncle is a happy charismatic man in his late sixties who makes us feel like he has never had a better day than today. He leads us out on a trail through the trees to a table set for four. There are half a dozen kinds of fruit and hot tea waiting for us. The girls take turns on the nearby hammock and swings, and Uncle brings them flowers for behind their ear.  Vi is always nearby translating and answering our questions. Uncle shows us his military ID from back in the day, and we ponder the things that he must have witnessed. And here we all are having a good time together in his orchard.
After resting for a while, a couple of younger guys show up and Vi tells us that it is time to go fishing. I'm expecting to see a couple of fishing poles at the side of the river, but instead one of the guys jumps into one of the nearby irrigation canals and starts building a mud dam to stem the flow. He has already built another one upstream about 30 feet. The water is only about a foot deep so it doesn't take but a couple of minutes. The other guy suddenly has a basket with two long loops of rope attached, and the two guys set to demonstrating how to lower the water on one side of the dam, a basket at a time. It's a swinging motion with a dip on one side and an empty on the other. Its takes coordination and rhythm and one of them switches out so we all have a chance at it. Once we get going the upstream pool empties pretty quickly. We're all laughing and having a good time.
Then Vi says we should jump in, and the four of us stare at each other in disbelief. No, she says, take off your shoes and get in (we're all wearing shorts). It's the only way to catch the fish. By hand! She explains that they are a species of snakehead fish native to the canals and that they taste great when cooked. So ever so slowly we crawl down into the mud – it's cool and gooey and just over my ankles. Vi explains that we have to walk toward the edges of the canal and be ready to grab anything that moves. This is exactly the "off-the-beaten-path" we were hoping for. My older daughter corners something slithering. It's about a foot long and she lunges with both hands. Bingo! It really is a fish and quickly a bucket appears to put it in. My wife gets one on the other side of the canal. Then I catch one, predictably slippery in the almost black mud. Now both my hands and feet are the same color. My younger daughter needs to catch one, and there's much screaming and laughter as we try to find one more.
By the time we pulled ourselves out of the canal, washed the mud off as best we could, and walked back to the house, the fish that we caught were already cleaned and roasting on sticks over a fire. In no time we're pulling meat off the fish and validating Vi's prediction of tastiness, and celebrating our much-earned second lunch course.
After many thankful goodbyes to Uncle and his family, we walked a short distance to a small river tributary where a couple of canoes were waiting. Piloted by our original boat driver and his wife, we split up amongst the canoes and floated quietly down the river, enjoying a short respite of calm after all that fishing excitement. Walking back to the bicycles we came upon a boisterous party at a nearby house. Vi explained that they were celebrating the anniversary of the death of a friend, and when they saw us walking by several people jumped up and invited us in. Not wanting to intrude on what we thought would be an exclusive event, we attempted to bow out gracefully. But the hosts would have none of it. There were cursory introductions and I was quickly handed a beer and challenged to chug it. We expressed our happy condolences and headed on our way. The party, interrupted by our hasty arrival and departure, recommenced.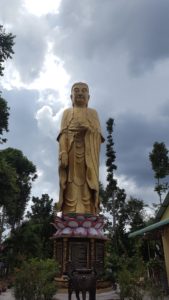 Back on the bicycles we continued our tour and quickly came at Buddhist temple with large statues facing each other in a small compound. We hadn't noticed many temples in Vietnam, certainly not like Thailand, and attributed it to the decades of communist control of Vietnamese society. This one didn't have much activity but it was obviously nicely maintained. Around the corner and through a small gate, we were welcomed by a beautiful older woman at a traditional wooden house. Inside, Vi explained the history of the family and the house, and how brothers had moved away but still shared portions of the sprawling compound, and how their mother stayed to maintain it and welcomed tourists like us to have an income. And with that, we sat down to our second lunch. None of us were terribly hungry, but we were happy to try new and local dishes. Hopefully what we couldn't eat didn't go to waste.
By now it was the middle of the afternoon, and it was time to head back to Saigon. Outside the gate Vi's car and driver were waiting. I'm not sure how the bikes got back to the start. Since we hadn't yet seen the main stem of the Mekong, Ashley asked if it would be possible to detour over on the way home. The town where we crossed over the long river bridge was surprisingly industrial, with fish packing plants and petroleum storage, but of course, it would have to be to support the delta population.
It was getting dark already when we got back to Saigon.  We were dropped at our hotel, thanking Vi for our spectacular day. She suggested heading to the Café Apartments on Saigon's Nguyen Hue Walking Street for dinner, which we did after a short rest. The Café Apartments are small shops and restaurants in an old apartment building. We started on the top floor and worked our way down until we found the perfect dinner spot, browsing in the unique and wonderful shops along the way. Outside, the Walking Street itself is teaming with activity, as locals and tourists alike hang out on the wide pedestrian boulevard lined with the world's most famous brand-named fashion boutiques. Apparently, this is a new development since friends were here only a decade ago. But it was a perfect finale for our two-day Vietnam primer.