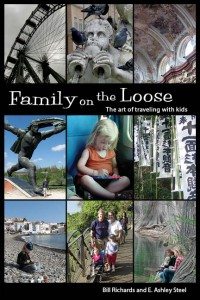 Family on the Loose: The Art of Traveling with Kids by Bill Richards and E. Ashley Steel will inspire laughter, learning and endless adventure with your family.
Pack your bags, hop a plane, and take a trip! Embarking on a journey with your kids can be a thrilling and rewarding adventure.  Family travel is also a great way to expand your cultural horizons and help cultivate our next generation of global citizens.
Great reviews of this book are everywhere.  Go ahead and Look Inside!
This new title from Rumble Books is intended for well-seasoned travelers and newbies alike who enjoy being with their children, want to enrich their education, and are excited to discover, as a family, the vast and unique experiences this world has to offer.
Our book offers hundreds of easy-to-use ideas for:
Drumming up excitement for the journey ahead
Teaching your kids to pack themselves
Having fun at the airport and on the plane
Easing jetlag and schedule changes
Involving everyone in setting itineraries and expectations
Making museums and tourist stops engaging for everyone
Enriching your travel experience through journaling
Keeping the joy of the journey alive long after your return
Discovering cultural education in your own back yard
Enjoy an excerpt on ideas for keeping kids happy, active, and engaged at the airport!