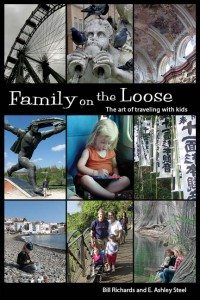 Family on the Loose: The Art of Traveling with Kids will inspire laughter, learning and endless adventure with your family.
Pack your bags, hop a plane, and take a trip! Embarking on a journey with your kids can be a thrilling and rewarding adventure.  Family travel is also a great way to expand your cultural horizons and help cultivate our next generation of global citizens.
This new title from Rumble Books is intended for well-seasoned travelers and newbies alike who enjoy being with their children, want to enrich their education, and are excited to discover, as a family, the vast and unique experiences this world has to offer.
Our book offers hundreds of easy-to-use ideas for:
Drumming up excitement for the journey ahead
Teaching your kids to pack themselves
Having fun at the airport and on the plane
Easing jetlag and schedule changes
Involving everyone in setting itineraries and expectations
Making museums and tourist stops engaging for everyone
Enriching your travel experience through journaling
Keeping the joy of the journey alive long after your return
Discovering cultural education in your own back yard
Enjoy an excerpt on ideas for keeping kids happy, active, and engaged at the airport!
Book Reviews and Interviews
"Parents who travel a lot are always on the lookout for great advice on travelling with their children. And nowhere is this information bundled together so well as in Ashley Steel's and Bill Richard's new book. "Family on the Loose" is packed with advice and information on how to make travelling with children more pleasant." – The European Mama
"Point-by-point advice along with reproducible checklists and activity sheets enrich this "must-have" reference and resource for family vacations!" – MidWest Book Reviews
"… aims to help families cultivate the next generation of global citizens through travel, is packed with practical and fun tips for surviving and thriving with kids on the road. " – ParentMap.com
After reading Family on the Loose, I have a renewed confidence that we will be able to travel again as a family. What I love about the Family on the Loose book: practical, informative, straightforward, comprehensive, and thorough; easy to read, as if you're having a conversation with your friend about traveling … – KidYogaStories.com
I have to say, if you are planning your first big vacation with kids — especially your first overseas — this book is a must-read. It is extremely easy to read (I breezed through it in one evening), yet packed with good advice, helpful lists, fun game ideas, and copyable worksheets. – FamilyVacationPlanning.net
"For older children, there are some great ideas and templates for creating fun activities related to museums or cities or other parts of a trip – I'm sure in the future I'll use the scavenger hunt ideas and probably have fun doing it too. " – Not A ballerina
"Topics covered in this book include … flexibility while traveling, re-entry to the real world post-trip, and even how to enjoy your hometown and appreciate it as if you were a tourist there! …. This is a book that can grow up with your kids!" – Growing My Kids Reviews
"
…go-to guide for traveling with kiddos doles out printables, checklists, hints and ideas to make traveling easier on you and more fun for the kids
." – ExpeditionMom.com
"…extremely comprehensive, with information on everything from how to pick a destination to how to budget for it, to how to create genuine interest and enthusiasm in your kids." – Momaboard.com
"I think it is in the book's subtitle that its genius lies. Traveling with children involves as much energy and creativity as making art – and when it's done well, it can shape your children in ways that will benefit them for the rest of their lives." – motherofalltrips.com
"This book is told from an educator's AND a parent's perspective – the definitive guide to family travel. It's full of excellent suggestions that will change your life. It will open the world to your family in a way that you never thought possible. And, it will chart a new course for your family – and your kids, and their lives. It's that powerful." – BlogCritics.Com
"It's not only a guide to family travel – it's a complete guide to being an interesting, engaged, and intercultural family." – wanderingeducators.com
"A family travel Bible, of sorts" and "Over the course of about 190 pages, the book takes a comprehensive look at every aspect of family travel…" – parenting.com
We sent a review copy to a travel blogger who took it on a 130-hour bus ride in India.  Her story made it to the Huff Post Books. "Richards and Steel motivate me with their choices to voyage on long trips with multiple children and the way they create meaning for each member of their clan."
"I've been checking out a new book called Family on the Loose that does a good job of answering any questions you might have and answering a whole lot of others you should have had. It's a thorough, well-organized book that leaves no travel stone unturned." Tim Leffel's travel.booklocker.com
Example Fill-In Pages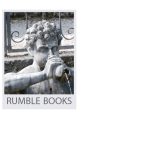 The book is finished, edited, laid out beautifully by Lumpfish Design.  It's now available in print and Kindle editions at Amazon.com.
Enrich It
Send feedback, tips, experiences trying an idea we posted etc.  We'll wrap your ideas into the website or the next edition.  Thank you!
About the Authors
Between them, Bill Richards and Ashley Steel have visited over 40 countries.  They have two wonderful and well-traveled daughters.  As a family, they've visited or lived in the USA, Canada, Japan, Italy, Spain, France, Austria, Slovakia, England, Hungary, Slovenia, Denmark, and The Netherlands.  They've traveled by discount airline, overnight train, crowded bus, rental car, and camper van.  They've slept in fancy hotels, hostels, bed and breakfasts, campgrounds, with friends or family, and in rented apartments.  They have all carried backpacks, squeezed into one family backpack, rolled suitcases, and even traveled without so much as a toothbrush.
In his other real life, Bill is a forest ecologist.  He has an MS from the University of Western Washington in Environmental Science specializing in Landscape Ecology.  He currently works as a restoration ecologist and has published his work in Conservation Biology, Forest Ecology and Management, and the Natural Areas Journal.  Bill grew up around the Great Lakes on both sides of the Canada-US border, and accompanied his parents to over a dozen countries before graduating from high school.  A committed adventurer, he has stood atop snow-covered peaks in Nepal, jungle-cover pyramids in Guatemala, and cross-covered Duomos in Italy.  He has lived and worked in the United States, Canada, Australia, Thailand, and Austria, and has traveled extensively in North and Central America, Eastern and Western Europe, and West, Southeast, and East Asia.  One of his goals is, eventually, to accompany his daughters to Mongolia.
Ashley is a research scientist and science educator.  She co-founded Science Inquiry and Research Council (SIRC), a non-profit organization, to improve science education.  Her published curriculum, The Truth About Science, has sold over 5,000 copies.  Ashley has used the book, and ideas in the book, to run many teacher workshops on the scientific method, statistics, and ecology.  She finds it especially rewarding that others educators, educators she has never even met, have used the book in their own teacher training courses.  The excitement of discovering that a book you wrote is being read in a distant location by a person is huge part of what inspired Ashley to  finish Family on the Loose.
Ashley graduated with distinction from Duke University, during which time she lived for five months in Denmark.  She has two M.S. degrees and a Ph.D. from the University of Washington in Seattle.  She lecturers enthusiastically and her research has been published in lots of scientific journals and magazines (though it's never enough).  She has been lucky enough to enjoy a Luce Fellowship, for one year of work in Southern Thailand, and a Fulbright Fellowship, for teaching and research in Austria.