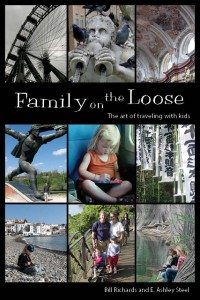 We're interested in what readers have taken from our book.  What has worked and what hasn't?  So we're hosting a little contest.   Under each section below, please tell us if you used an idea from the book or if you have something new to add.  One winner will be selected at random from all thoughtful reports and additions in each section.
Ready, set …
The first section of the book is about getting ready to travel.  Reading books, trying crafts, and getting your kids engaged in planning the adventure.  One reader wrote to use about the section on enabling kids to pack themselves.  She said that the packing lists worked great and the kids were excited for the independence. However, she wished she had explained to the kids that they needed to pack clean clothes (as opposed to the dirty ones wadded under the bed).   What worked or didn't work for your family?
Go!
The middle of the book is about what to do on the road.  Have you tried a museum scavenger hunt?  Any journaling ideas that worked super well or that were an horrid failure?

Back Home
The final third of the book is devoted to ways to make travel memories stick and to discover new cultures close to home.  We talk about cultural mini-trips, international birthday parties, and themed country nights.  Please share any successes or failures you've experiences while trying our suggestions.