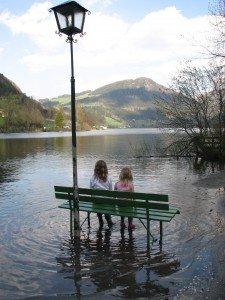 I squeaked in another ski day!  With the rising spring temperatures, the rapid loss of snow at the local ski areas, and the distance to the high elevation Alps, I thought my ski season was over.  But I resisted sending my ski equipment home when the opportunity presented itself, in the faint hopes that I could find the snow again.  That hope blossomed last weekend when we went to Lunz am See.
BOKU has an aquatic research center on the shores of the lake in Lunz, about 150 km west of Vienna.  The center is the second oldest active research center in the world that is dedicated to the study of freshwater ecology.  Ashley was invited to take part in a five-day course there on the basics of fish, zooplankton, invertebrates, and stream morphology.  Since everyone at her institute at BOKU loves to go to Lunz, she invited the rest of us along thinking that we'd also enjoy the opportunity of hanging out at a mountain lake for the weekend. Then, late last week, one of my collaborators at BOKU told me that one of the ski areas above Lunz still had snow and would be open for just a few more days.  My excitement doubled!
Ashley and Logan left for Lunz early on Friday, catching a ride with Andy, another faculty member, and his nine-year-old daughter.  I hung out in Vienna until Zoey's school got out and then we raced for the train station.  I was the only one carrying skis.  We transferred a couple of times, first to a smaller train and then to a bus, as we left the relatively flat agricultural floodplain of the Danube for the eastern foothills of the Alps.  After a couple of hours we pulled into Lunz, a small village amidst 6,000-foot peaks, which still had a smattering of white stuff up high.  We found A and L just in time to join the group for dinner at the local gasthof.  Over beers after dinner, Andy said that I could take his car in the morning and go find the snow, lamenting that he didn't bring his own skis along with him, even though he was already committed to teach about fish.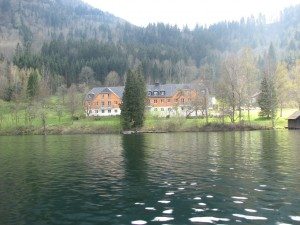 After a night in a top-floor room at the center overlooking the lake, with the kids in sleeping bags on the floor, we awoke to a torrential downpour.  At breakfast of semmel rolls and coffee, people laughed at my aspiration to ski, but Andy encouraged me to go anyway.  So I left the girls in a class on zooplankton, and tried to figure out how to turn the windshield wipers on high.  I hadn't driven in about four months, and I was a little timid to be driving someone else's car for my first European driving experience, but I wasn't going to let those little things, or the prospect of getting soaked, keep me off of my skis.
I estimated from an internet map that the Hochkar ski area is 15-20 km from Lunz, but my high level of concentration on driving makes it seem a lot farther.  As I leave the valley bottom I pass through a kiosk selling lift tickets.  The attendant only speaks German, and he doesn't understand my inquiries into refunds.  I'm thinking it must be a scam to sell the tickets so far below the ski area, so that you don't know what the actual conditions are going to be.  But after switch-backing on the paved old logging road for several kilometers, the splashes on the windshield start to stick.  Soon the road starts to turn white, and though I'm excited that I might not have to ski in the rain, I'm more than a little concerned about Andy's car on the skinny slippery road on the side of a mountain.  My anxiety heightens as I pass an old Toyota backing down a steep section it didn't have the traction to get up.  But soon the grade lessens and I pull into a parking lot with about 10 other cars.  It seems not many people are as motivated to ski as I am.
I park right next to a ski lift.  This is good because I can't see any buildings or peaks or ski runs.  Clouds have socked in the ski area, and when combined with the heavy snow falling, visibility is about 30 meters.  But at least there is no wind.  As I'm changing into myclothes I try not worry about the drive out – I'll deal with that issue when the time comes.  I'm skiing again in the Alps, for Ullr's sake, and I need to focus on that right now and enjoy it.
I choose a lift that only goes half-way up the mountain, because the ski map makes it look like the top is above tree line, and I'm going to need the trees to be able to see something on my way down.  Not only is there no lift line, but the lift operators outnumber the other skiers that I can see.  At the top I buckle my boots even tighter and tentatively leave the visual comfort of the lift shack for whiteness.  I know from experience that there's usually an easy way down from most Austrian lifts, so I'm not afraid of the slope as long as I can stay on the piste.  I do a couple of turns and fall down.  I'm making fresh tracks (I think) in 5-10 cm of new but wet snow, so falling is painless.  It's not so much that I can't tell which way is up as much as I can't tell if I'm moving or not.  But eventually I see the dark outline of a tree, and then another one, and then a round piste marker, and I slowly make my way.
At the bottom I choose another lift that goes to the top, figuring that the trees really weren't that much help.  And though the slope is a little steeper, the piste markers are enough to navigate by.  It feels like I'm skiing fast, but who can tell for sure?  I ski the same slope again and gain confidence as the snowfall eases and visibility improves. I can actually see from one lift tower to another as I jump down a "steep slope" and feel like I'm really skiing for the first time.  I can now see a few other people from time to time, and you can tell the locals by their confidence in flashing through the whiteness.  I ski this slope several more times before lunch, and then try to find an open slope-side gasthof.  There are seven people inside, and only me and the older gentleman I share my table with appear to be there to eat and not to escape the conditions.
After lunch it has stopped snowing altogether, and the cloud ceiling has risen several hundred meters.  On the lift to the top, sparsely spaced trees emerge for the first time from clouds on the other side of the lift from the piste I skied in the morning.  The fresh snow between them is too much of a lure not to try, and I follow a couple of tracks into new territory.  After three turns everything about the day changes.  The slope and spacing of the trees is perfect, and though the snow isn't exactly powder, it's late April and fresh snow is fresh snow!  I take four or five more glorious runs through the trees, taking a different route each time to find fresh snow.  If the sky were blue it would be absolutely perfect.  I only make one mistake, following some tracks in a direction that doesn't feel right.  They end above a short rock outcrop that I have to down climb with my skis on.  It's good again on the other side, but the bases of my skis aren't so happy.
I promised to have the car back around three, so reluctantly I head for the parking lot.  It has warmed enough for the snow on the road to me melted.  On the way out I notice another part of the mountain that I hadn't noticed during my white entrance, but it's always good to leave something for the next visit.   I have no regrets.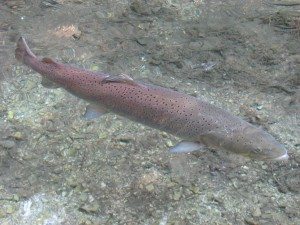 Back at the lake the kids are out on a boat collecting plankton samples from the lake bottom.  We join the rest of the faculty for dinner, and after the girls go to bed, Ashley and I stay up to three in the morning drinking beer, debating the values of smoking, and snacking on smoked tongue.  On Sunday, we follow the fish class down valley to see a hatchery for the threatened Danube salmon (Hucho hucho).  The hatchery is up on a hillside behind an organic farm, and is little more than a half dozen excavated ponds and a small wooden shack.  But they produce fish to help reseed the region with the species, and a man from Germany is there during our visit to bring fish back to his river.  We eventually take a break from the class and drive around the valley a little before hiking up to another lake.  And then the girls and I head back to Vienna for Monday's school, leaving Ashley for another couple of days of classes. What started as a boring-sounding weekend of lectures on fish was actually really great!