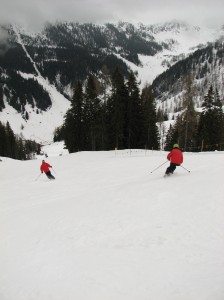 Several years ago, when Ashley first mentioned the idea of a sabbatical to Vienna, I began to daydream about skiing in the Alps.  From watching the Olympics as a kid I knew that Austria is the center of the skiing universe.  I had listened to friends talk about skiing there and read all the stories in the many skiing magazines that come through our house.  News of last year's low snow accumulation and short ski season only increased my excitement, because I figured that there couldn't possibly be two years in a row like that, regardless of climate change.
When we finally got here, though, reality set in.  Vienna is in "lower Austria" – the lower not referring to the southerly direction – and the big mountain ski areas are farther than a day-trip away.  If I wanted an Alps skiing experience, it would require a designated ski vacation. Early 2008 was also not producing much snow, at least in the areas nearest to Vienna that I could easily monitor, and with each passing day I could feel the season slipping away.  And I realized that I really knew nothing about ski areas in Austria.  I had heard of Innsbruck and Kitzbühel, but when trying to choose a destination for a ski vacation that mixed family-friendliness (e.g., ski school and lodging options that didn't bankrupt us) with a skiing challenge, I quickly found so many seemingly attractive options that I didn't know which was a preferred choice.  Asking friends here didn't help much, because they would quickly list a bunch of difficult-sounding places I've never heard of and could never remember.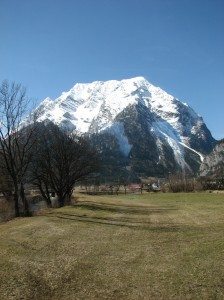 We did have a week designated for our skiing adventure though, the week of the Easter school holiday in March.  An internet search indicated it was a popular time for skiing vacations, with all of my inquiries to family chalets being met with "booked" responses (though one said they had space for all but one of our children!).  Then Ashley found an agent in England that knew a lot about ski vacations in Austria and she quickly had a bunch of options for us.  We chose a hotel in Altenmarkt, partly because of its proximity to Salzburg (we wanted to meet some friends from Germany there after skiing), partly because we could get a family room for 100 euros/night (relatively cheap by Austrian standards), partly because of a 4-km toboggan run from the hotel's chalet up on the mountain, and partly because of it was in the Ski Amadé, a collection of interlinked ski areas using a common lift ticket and encompassing over 270 lifts and 860 km of ski runs.  More realistic for us were the eight ski areas in the sub-region of the Saltzburg Sportwelt, which included Altenmarkt ski area with its lifts from town, and Zauchensee, a ski area at the head of a valley only 6 km up the road by "skibus."
So, when the time came, we loaded our ski bags into a second-class train car for the 4.5-hour ride to Radstadt, the town closest to Altenmarkt with a semi-major train station.  We went from the lowland Vienna vineyards, to the forested Semmering foothills, to massive white-shouldered peaks towering over green and white valleys in no time.  The older couple sharing our compartment were persistent in helping Ashley learn German by being talkative and speaking slowly, as I watched the scenery pass by the windows and played cards with Zoey and Logan.  I am surprised to see that every building on every hillside, and in every town, is of classic Alp's architecture with steep roofs and wooden balconies.  There are also small lumber mills in most towns, fed by the small patch clearcuts on the hillsides above, which are more noticeable in the winter snows.  I guess these chalets require a lot of wood.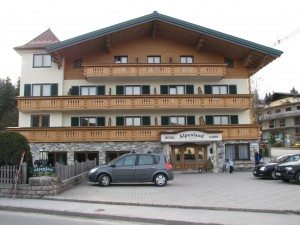 We get a top-floor room at the Hotel Alpenland, a relatively new chalet not far from the main square.  The propriators are little older than us, and the traditional clothes they wear on their website are not kitschy costumes, but the clothes they wear everyday. She welcomes us and hosts the morning breakfasts, and he answers our questions in English and hosts a dinner party twice a week at their mountain chalet, where he also plays the accordion.  Unfortunately, there isn't enough snow to ride toboggans back to town, which on some level is OK with me because of the bad publicity from some recent tobogganing accidents, made even riskier by the obligatory après-ski schnapps.  But I'm sure it would have been a gas!  We head into town to rent skis for the kids.
We decide to make Zauchensee our base ski area because it has a higher base elevation than Altenmarkt and thus better snow, and because it has three peaks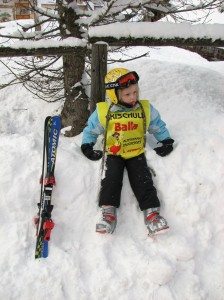 to ski on to provide a lot of varied terrain.  Both places have ski schools for the kids, but the one at Altenmarkt wasn't so responsive to my inquiries before we got here.  So after an awesome breakfast (eggs, muesli, yogurt, kiwis, strawberries, croissants, cheese, ham, salami, etc) at the Alpenland on the first and every morning, we pack into the skibus for the trip up to the end of the valley.  The Balla ski school is easy to find near one of the easy runs. Unlike ski areas at home, the ski school and lift tickets get exponentially cheaper the more days you buy.  So there is only a few euros difference between four days of lessons and lifts, and six days. It's an optimist's decision to go for packages for the whole week, hoping that we all have the stamina for so much skiing.  Without so much as a signature on waiver form, we drop the kids with their respective instructors.  The other students in each class, none of which are native English speakers, are placed because of their ability and not their age, so Logan has a 10-year-old in her class and Zoey has a 4-year-old.  They both start on the beginner hill and move off from there once they gain confidence.  Ashley and I head for the lifts ourselves.
We start up the gondola on the right side of the valley.  We have to meet the kids for lunch, and since the available trail maps don't have much resolution, we're feeling our way around the mountain without getting too far away.  This peak is unique in that the upper sections are less steep than the bottom.  Since there hasn't been much new snow lately, we stick to the groomed pistes.  I like the groomed steeps, more challenging than most groomed runs I've been on at home, and cruising down into the beautiful village at the base.  The girls love their first morning, and the fact that their instructors speak German first doesn't phase them at all.  After frankfurters and French fries they are eager to rejoin their classes for the afternoon.  We are all relieved.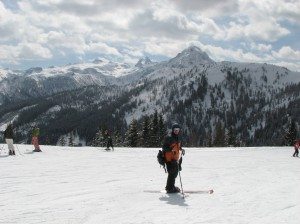 After lunch a storm front blows in to cover the slopes with several inches of large wet flakes.  The icy-fast slopes get transformed into Cascade cement in one chair-lift ride.  I take the 6-seat lift up the mountain on the left side of the valley for variety, and find myself alone on a slope that was semi-crowded in the morning.  It seems the other skiers are afraid of the snow.  But I have to admit that after a couple of runs I get pretty tired, though I laugh out loud several times that I could ski this crud at home.  I take to the heart the Cascade mantra that "if you can ski here you can ski anywhere."  At pick-up time I'm happy to see the girls still having fun even though they are pretty wet.  Back at the Alpenland we hang up our wet clothes on anything we can find, hoping they will all dry for day #2.
After we drop the kids on the second day, Ashley and I head up again to the left side of the valley.  After the difficult conditions of yesterday afternoon, Ashley wants to ski together.  When we get to the top, however, we can see a couple of skiers traversing a backside ridge above a virgin slope of five inches of new light snow, too steep for Ashley's comfort.  She says we're here to do this and that I should follow those folks to the powder.  "There are no friends on powder days," but there are great partners!  So I do as I am told and traverse out the ridge.  The slope is an undulating 40 degrees dotted with the occasional tree and I choose one of the steeper lines.  I'm not two turns into it before I'm laughing out loud.  It's just about perfect.  The only problem is that the run is relatively short and I have to keep riding the lift to find the snow again.  Each time out the ridge I go a little farther, finding fresh snow past the last track.  After a half dozen runs, still shared with only a couple other people, it's time to head back to pick up the girls for lunch.
Logan is complaining of a sore shin, developed from walking to and from the lifts in her ski boots.  She says it doesn't hurt when she's skiing and wants to stay in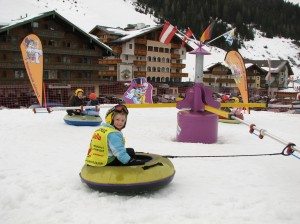 the lesson in the afternoon, and Ashley and I take turns carrying her and her skis.  My usual lunch, developed from my day alone at the Stuhleck ski area outside of Vienna, is a cheese sausage and an Austrian soda.  Most of the male skiers are drinking half-liter glasses of beer by lunch, but I need my energy for my legs.  So far I've only seen a couple of other teleskiers, and I'm conscious of the general preference for easy groomed runs by the majority of skiers.  In the afternoon I ski with Ashley under the right-side gondola, having spent most of my day's leg energy in the morning powder.
On the third day we decide to make it a half day of skiing and a half day at Wasserwelt (Waterworld), a swimming complex a couple of towns up the main valley.  There are a couple of inches of new snow in town, which is approaching 8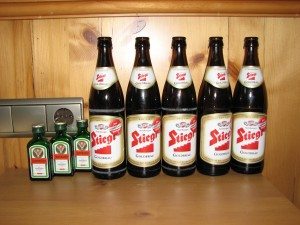 inches up in the mountains.  After dropping the kids at school again (Logan's leg is still sore), Ashley and I head for the gondola up the middle of the valley to the highest point at Zauchensee at 2,113 meters above sea level.  It's our third mountain in three days and the sight of a world cup downhill race.   We don't see who can get the bottom first, however, and enjoy the new soft snow, the amazing scenery, and good vibe of skiing Austria.  After a couple of runs Ashley says I should go get tired before our Wasserwelt experience, and so I head back to the ridge I skied yesterday morning.  I am amazed to find, even at noon, that I have to break trail on the ridge.  I only have time for a couple of shots at the fresh powder, and it's just as good as the day before.
Wasserwelt is in Wagrain, the base of another of the ski areas of the Salzburg Sportwelt, and the final resting place of Joseph Mohr, the writer of "Silent Night."  In the winter Wasserwelt is composed of an indoor/outdoor stainless steel pool with a couple of waterslides – one that is steep and fast and one that is slow and in the dark.   Logan immediately forgets that her shin is sore, as she and Zoey find an untapped source of energy for climbing the stairs to the top of slides. I'd rather sit and soak, since my legs are feeling the third day blues, but I'm not sure Logan can handle the slides by herself (the sign says not for kids under 9).  It isn't long though, before she rides each slide by herself and resurfaces in the pool at the bottom.
This is my second pubic bath in Austria, after our trip to Baden bei Wien in January, and I'm still impressed by the communal locker rooms. Zoey had swimming lessons from her school where all the kids changed together, as they do in the foyer of her karate class, but these are adults and, well, me.  There are little changing rooms within the locker rooms where most people actually change, but modesty is still pretty low for my American sensibility.  And what about that speedo, dude?
On the fourth day we awaken to sunshine and blue sky.  We decide to pay the extra money for a kid lunch at ski school to take advantage of the linked ski areas.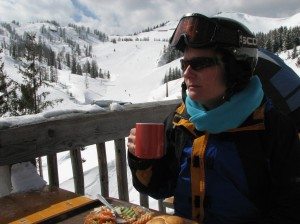 Ashley and I want to see how far we can get and still be back to pick up the kids at 3:30.  We head up the right side of the valley to a ridge at about 2,000 meters and ski 1,000 meters down to the bottom of the next valley.  Then we jump on tractor-pulled trailer to cross over a river and under a highway to get to the bottom of the Flachauwinkl ski area.  After two lifts up the other side of the valley we're back at 2,000 meters.  The view is stunning, being surrounded with snow capped peaks and corniced ridges.  We ski a couple of runs above treeline and stop for lunch on the sun-drenched deck of one of the chalets.  Then we're up and over the next ridge and into our third valley.  At the bottom we decide that we'd better start heading back, so we retrace our route back Zauchensee.  I get a couple of steep off-piste shots along the way, and this is the way I have always pictured Austrian skiing.
On the fifth day we awaken to our third storm, dumping snow heavily again.  When we get to the ski school we find out that it is race day, and that all the kids would be vying to see who can ski the fastest down through a series of gates.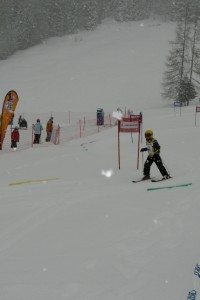 Zoey usually shies away from overt physical competition, but though she is nervous, she is excited to try it.  Logan is anxious too, as she puts on a numbered racing bib.  When it is their turn, I am surprised at how fast and under control each girl skis – they are really learning something at this school.  Each of them takes fourth place in their respective classes and are proud to receive a medal.  After the races the girls head out into the falling snow with their classes and Ashley and I head up to my favorite ridge – she is ready to try it with another 8 inches of soft fluffy powder.  I can tell she is nervous as we again break trail at the top of the ridge, but she is also excited.  I jump in first and am a little over-exuberant as I face plant half-way down.  And as I look back up I can see Ashley making beautiful turns in the fresh snow, and am happy to be able to share this feeling her.  We ski most of the rest of the day together as the kids are eating lunch at the school again.  The sun comes out in the afternoon exposing the beautiful vistas along with the great snow.
That night we went to dinner at our Hotel keeper's chalet 1,500' up on the side of the mountain overlooking Altenmarkt.  I'm not sure how people get up there in high snow years, other than skiing down from the lift above, but our van-taxi ride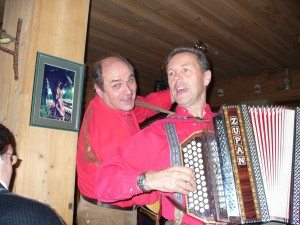 up on the switchbacking logging road was very exciting in the couple of inches of snow left from the morning's storm.  We're surprised at the size of the chalet, with a big restaurant on the second floor and rental apartments above.  We're seated at a big table with a very nice family from The Netherlands, with whom we share a couple of shots of schnapps and beer.  Their three kids are little older than ours, but they blend well, taking turns seeing how many hits it takes to hammer a nail into a stump (apparently some kind of Austrian drinking game).  The accordion music starts and the party gets rolling.  I'm a little disappointed in the menu, getting tired of schnitzel and sausages, but I order the one thing that I don't recognize and am happily surprised at the tasty version of macaroni and stinky cheese broiled in a skillet that comes my way.  We have to leave early, as people start to be drawn into party games on the little stage, but we have to get the kids to bed.  I'm happy to have had that second schnapps for the ride back to town.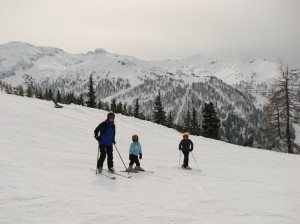 On our sixth and last day of skiing the girls spent the morning at ski school and we skied as a family in the afternoon.  The sun was out for most of the day, and it was fun to ski from the top of a big mountain with my kids for the first time.  They both have come a long way.  The muscles in my legs would have made skiing a seventh day impossible.
We came on this ski adventure expecting to ski a few days and spend another few days exploring the small villages in the valley.  But the girl's excitement to ski with their instructors changed everything.  Though the ski school acted as a kind of anchor, tying us to Zauchensee and limiting our exposure to the endless miles of ski runs in the Amadé, it also allowed us to be on skis way more than we thought possible.  And we were still discovering new runs and powder stashes late on the sixth day.  It was an awesome trip!