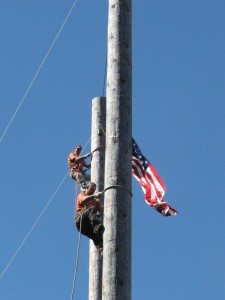 Logging plays a tremendous role in the cultural heritage of the Pacific Northwest.  Yet, how many kids know much about the skills loggers needed or about how logging shaped the Pacific Northwest?  At the High Country Log Show in Roslyn, WA, you and your family can witness an authentic display of logging skills and equipment – strapping down logs on a big logging truck, climbing a pole 80 feet up in the air, sawing logs with supped up chainsaws, sawing logs with two person saws, splitting/stacking logs, and more.
Our family's favorite events:  Obstacle course – loggers raced over log piles, balanced on perched logs, and knelt down to attach cables.
Giant male/female two-person saw – one set of contestants was a father / daughter pair and the young girl appeared to be about 12 years old.
High pole climbing – two men raced each other to the top of 80-ft poles.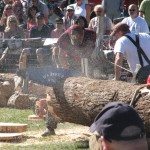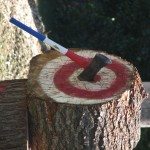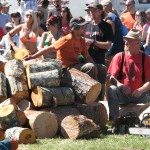 The logging show is held on Saturday and Sunday of Labor Day weekend, from 12-4ish. This year, 2012, is the second annual event.  The event is held in Runje Field, "downtown" Roslyn which a nice playground.  For the logging show, entrepreneurs had set up bouncy structures for kids to play on for a small fee – a giant slide, a house, and an obstacle course.  There was also kettle corn, cotton candy, pulled pork sandwiches, lattes, and a couple of craft booths.  The audience could sit in bleachers for the best views, perch on logs scattered about, or wander to get close up views of particular events.  Great views of most events could also be had from a shaded and well-attended beer tent.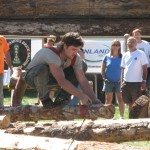 The Make it a bike ride expedition and learn about logging and mining history! Runje Field is on the historic Coal Mines Trail, a 4.7 mile interpretive bike trail that runs from Ronald to Cle Elum
To learn more about logging history, you can visit http://www.history.com/shows/ax-men/articles/history-of-logging.  For photos of Washington's logging history, visit http://www.vannattabros.com/histlog.html.  Photos and descriptions of logging on Washington's Olympic Peninsula are available at http://olympicpeninsulafishing.com/htdocs/timber_harvesting.htm
Next year, we plan to attend the Morton Loggers Jubilee, the self-proclaimed granddaddy of all logging shows!

Roslyn on Dwellable