Traveling, perhaps by definition, is the act of covering a lot of place in a little bit of time.  What happens when a lot of time is explored over a very small amount of place?  Is it a kind of traveling?  
We recently visited a friend's one-room, log cabin.  The cabin was built by her great grandfather and has been in her family ever since.  Her great grandfather rode out by horse to buy the property, which borders a national park.  There is a waterfall out the window, a book of family history on the shelf, a canvas backpack used by relatives on the wall, and a stuffed elk named "Mr. Moose."  The curtains were sewn by her mother and the big rock fireplace was an addition from her grandfather.  Everything has a story – even the ugly green plastic breadbox that someone threw away. 
Time slowed down after we arrived.  We played cards after the kids sorted a full deck out of a dusty box of mixed cards.  We made pancakes, created fern centerpieces, and read magazines.  Oh, and I read about how to self-publish a book with my feet up on the big stone fireplace.  When wandering outside, we walked on paths that had been worn by dozens of relatives for nearly a century.  My friend had walked the same paths as a little girl.  She had played the same card games in the same room, and collected the same species of plants on the same hillside, and observed the same waterfall grow with other rains that had fallen decades e

 

arlier.
View from MI cabin window
I I shared my experience with Jessie,
I shared my experience with Jessie, from Wandering Educators, and it turns out that she too has a family cottage, built by her great-grandfather.

 

In the late 1920s, he built it as an investment and as a family get away.

 

All the neighbors got together and had a building party. At the cabin, there is a photo of a group of model T cars parked in front of the building site. Her cottage was one of the first on the lake.

 

It didn't have electricity or indoor plumbing until the 1950s.

 
Jessie's grandfather built the boathouse down by the lake in the late 1960s and her grandmother made the curtains in her cabin too.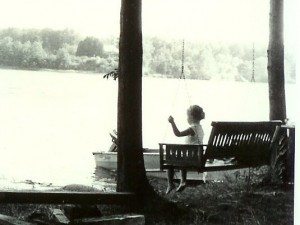 Jessie's cabin has hosted many large family gatherings with cousins all piling into the boathouse.  They eat outdoors at a very long picnic table and enjoy campfires and s'mores, music, cards, fishing, sailing, kayaking, waterskiing, climbing trees, exploring, and laughing – "always laughing".  Following family tradition, she spent her honeymoon at the cabin. 
"The peaceful feeling that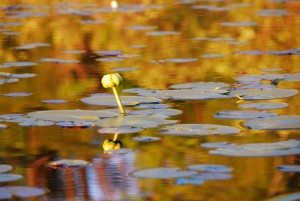 you get when you come up has never changed. The views are the same, although many more cottages have been built around the lake. We always look forward to signs of the seasons. In the spring, we look forward to fiddlehead ferns, lilies of the valley, and lady's slippers. In the summer, we love the water lilies, the mushrooms, the oak, quaking aspens, birch trees, and the eagles flying overhead. In the fall, we collect acorns, bear berries, and wintergreen for our winter gardens.  I, too, walk down the stairs to the lake along the same path as my relatives.  It's my very favorite kind of travel – a familiar kind of travel, where we know when we go that we'll be surrounded by history, love, sense of place, and a coming-home." – Jessie
There's a commitment to this kind of stationarity, so much the same as travel.  Both bring education and the joy of nuance.  Comparisons are fascinating: Austria versus Seattle, 1938 versus 2012.  Yet, a family cabin isn't quite like travel.  You can book a flight to Timbuktu any day of the week but you can't, on a whim, stay put for a century.  You know with every step when you're leaving on a trip.  But, you have no idea when you embark on heritage.