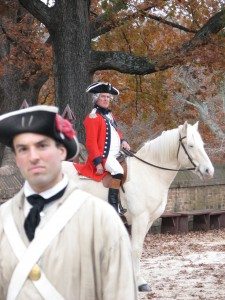 Colonial Williamsburg has to be America's quintessential educational family travel destination.  It's like Disney for the NPR-crowd. Kids have fun and think they are on vacation.  Almost accidentally, they learn about American history by watching and interacting with characters in costume.  We had a great time but found it challenging to get our arms around the entire experience.  There is too much to do in a short visit and yet I'm not sure parents or kids are likely to enjoy more than a few days at a time.  Based on our recent visit, here are a few insider tips to help your family have a blast.
Colonial Williamsburg might also be one of the most photogenic places on Earth.  We hope you enjoy a small sample of the five zillion photos we took while visiting.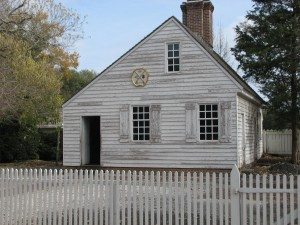 Where to stay?  We stayed in the Colonial Houses, associated with Williamsburg Lodge.  They were located along a main street, within walking distance of the historical area.  Because we traveled with extended family, we ended up peaking inside a lot of rooms.  They varied greatly.  Most were very nice and the period ambiance added to the immersion experience.  It was wonderful not to have to get in a car, park, or stay together during the day.  One person could easily walk back for a nap on their own schedule.  I would certainly stay in the historical houses again even though they were a bit more expensive than our usual style.  There are lots of alternatives.  A travel blog we enjoy recently recommended Marriott's Residence Inn and it looks fun too.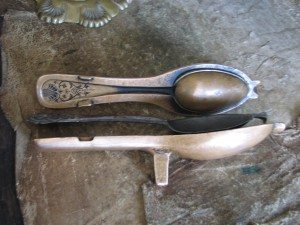 What to eat? There is no substantial, simple food in the historical area.  You have to be careful not to get starving and grumpy.  They even warned us about getting starving and grumpy on the kid's orientation tour and we still found it hard to avoid. Bring snacks!! You can eat at the Taverns but you have to make a reservation in advance.  You can make reservations on the same morning you want to eat but it's an extra hurdle that can be challenging to jump if you're already hungry, tired, and grumpy.   The taverns are also a bit pricey for a mid-day meal and they are a sit-down, long-stay commitment that might interfere with visiting the other attractions.  We ate dinner at a tavern one evening and it was great.  We particularly enjoyed the live music that had a unique sound.  But the food was pretty much just expensive hunks of meat.  On our second day, we discovered  "The Cheese Shop" in the Marketplace, a little commercial district at the edge of the Colonial zone.  It just says "cheese" outside, but actually they make sandwiches at the back and have lots of quick snacks for sale.  It's a perfect place to stock up for a picnic lunch or enjoy a quick bite.  There are also some bakeries and candy stores within the Colonial zone if you get desperate.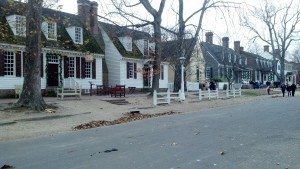 Where to start? Our trip coincided with both kids learning about American history in school so they were primed for the Williamsburg experience.  We found the kids introductory tour to be a perfect way to begin our visit and engage our kids in the fun opportunities everywhere.  During our visit, the tour started in the kids' corner at 10:45 and 11:45 every day, but check the schedule when you arrive.  The tour was about 30 minutes long and didn't require too much walking.  The guide was dressed in costume and spoke directly to the kids, providing information, context, ideas of what might be fun to do, and some landmarks.  I would absolutely do that again.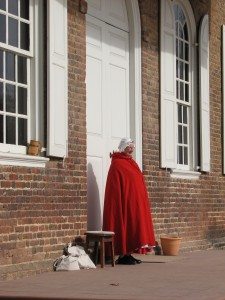 What to do after that? We really enjoyed wandering the streets and simply peeking into whatever happened to be open (carefully avoiding shops on the main street that actually sell stuff). The jail was particularly fun. For the first day,  I would plan to start with a tour, wander in houses/shops/jail (and don't forget to eat) and then end up at the live action, daily event (see below).  Over the next day or two, you might want to visit a few of the actual shops on the main street and choose a few of the building tours that seem most interesting to your kids.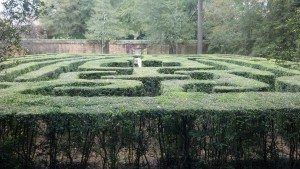 For example, we toured the Governor's Palace and followed that with the hedge maze – fun and good for energy release.  The costumed interpreters are a mixed bag.  Some are totally fabulous and eager to share their knowledge.  Others have gotten a little lost is self-righteous make believe.  It's worth checking in as your kids engage with various docents, guides, and historical characters.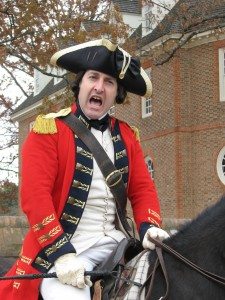 What not to miss?  The Capitol Building tour had, by far, had the best information and gave a great political context to the entire visit.  It might not be the best tour to start with because it's so packed with information and we needed some context to understand it all.  Also, there is a live open air "performance" each afternoon in which interpreters give a series of speeches or re-enact an important event.  These events seem to take place as a series in several locations.  For example, George Washington might ride into town at about three in the afternoon, and that might lead to a debate on the main street at 3:15.  The crowd might then need to walk to a third or even a fourth spot to witness the entire series of events.  A different set of performances was scheduled each day of our visit and I thought they were terrific.  If you plan it perfectly, you can be sitting on the curb in front of the bakery with a cookie and an iced latte when George comes galloping around the corner.

And the night life?  Okay, we took a ghost tour one evening.  There are brochures everywhere and our kids were intrigued.  There are a wide range of possibilities – private companies, official tours, scary tours, "factual" tours etc.  We didn't do the scary tour and we didn't pay extra to go inside the buildings.  To be honest, I thought it was painful – maybe one of the dullest and most ridiculous events I have ever experienced.  Painful!  But the kids were riveted, fascinated, entranced.  The tour was pseudo-factual and full of stories of deaths of young children and very serious statements about how "only digital cameras can pick up the ghost" etc.  I kept trying to leave the tour early but the kids (ages 5-13) would have none of it.  They had a blast.  And they were not alone. The grounds were crawling with tourists and their flashlights.  Other less cynical folks seemed to be enjoying themselves.  If your kids are old enough, I would give the scary tour a try.  If you're going to go on a ghost tour, it might as well be kitschy and creepy.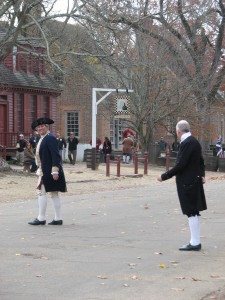 How should you prepare the kids?  Watch a couple of documentaries and read a few books about Colonial Williamsburg before visiting.  Being from Boston, I thought I knew about colonial times, but I suppose I've aged and forgotten a lot of my historical facts and timelines.  Our kids needed the historical context and we were lucky that they had gotten a lot of that at school.  Visiting Colonial Williamsburg is supposed to teach you some history of course, but it would still be more exciting to see Benedict Arnold in the flesh if you had ever even heard of him before that afternoon.  Also, it would be very easy to hemorrhage cash on even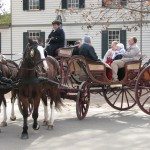 a short visit to Colonial Williamsburg – carriage rides, tavern meals, gifts in shops.  However, the free (or "free with admission") events such as the live performances and building tours were terrific.  It would probably be helpful to prepare your kids for what you are and are not planning to pay for.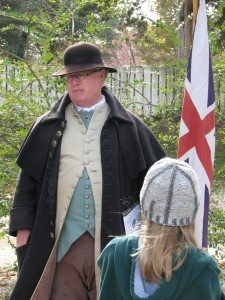 Big picture! Overall, we had a blast! The only downside was that there was so much happening that it was hard to get oriented. I read a phrase recently in a story about, coincidentally, Disneyland.  The phrase was FOMO – the Fear of Missing Out.  And, that is exactly the phobia I experienced during our visit to Colonial Williamsburg.  Don't expect to see everything.  Be selective and stay flexible.  Plan a nice day for yourselves and enjoy what you can do without paying any mind to what you can't do.  Our kids did learn about American history and they have a much better ability to imagine historical context.  I have to add that the weekend after we got home I found the kids playing "Colonial Times" in the basement.  They were giving each other 20 lashings; they had turned the chairs into stocks; and they were pretending to staple each other's ears to the stocks.  Well, I guess they learned something?