We traveled a lot when our kids were young and entertaining them in planes, buses, cars, and restaurants was a challenge.  I recently cleaned out our travel box and found some of my old favorite, mostly homemade, old fashioned, travel tricks.  These cheap and easy finds helped me not just endure our adventures but truly enjoy traveling with my kids.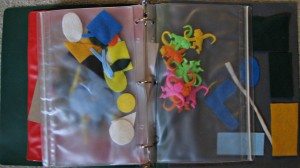 My Travel Book: I took an old 3-ring binder, a light, plastic 1" binder, and I converted it into a travel activity book. It only came out when we were "on the loose" so it was new and exciting every time.  Inside were several cheap, plastic, transparent pencil holders.  One held small toys.  At the time of this photograph, it was a collection of linking monkeys from an old-fashioned "Barrel of Monkeys" game.  When the kids were younger, it held a dozen metal rings (for holding papers together) that the kids could link together and click onto the 3-rings of the 3-ring binder.  On the inside of both the front and back covers, I glued large pieces of felt.  In several other pencil holders, I stored hundreds of homemade felt pieces – squares, circles, triangles, long lines, flowers, simple animals, and cars.  In flight, my kids could sort them by shape, sort them by color, and create elaborate scenes on the inside covers.  When it's time to move, just close it up and the felt collages (for the most part) stay still and are ready to go again at the next opportunity.
Wait, wait, there's more.  I also took some cardboard (from the back of a notepad) and punched patterns of holes into it (making sure that 3-holes on one side fit into the 3-rings of the binder).  Tie a nice colorful piece of string to one corner and, viola!, sewing cards.  Yet another good old-fashioned activity that can be easily scooped up quickly without ruin and is unlikely to tumble into the aisle just as the flight attendant is coming through with the drinks cart.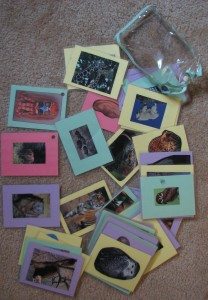 Photo cards:  It started out with just a few simple photos cut from a magazine and glued onto half-index cards.  But then I laminated them while waiting at Kinkos one day and an obsession began.  Eventually, we had 60-100 laminated cards, each with a cheerful magazine image on one side.  The cards were fun everywhere.  If one dropped, it was no great loss.  It was easy enough to make more.  I included animals, body parts, items of clothing, and other simple nouns.  We got lucky and were given a toy with a plastic case just right for storing these cards but a ziplock baggie would work just as well.  These also only came out in the car or in-flight.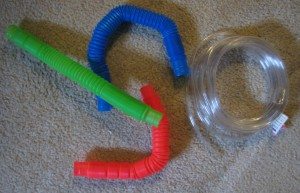 Tubing!: The red, green, and blue accordion tubing was found long ago a kid's store for about 50 cents each.  It is brilliant!  You can extend it and shrink it – yes that's fun but it makes a noise that your in-flight neighbors will detest. You can also hold one end up to the air vent and then …. Guess what? … air blows out of the other end.  Awesome and exciting every time – from 6 months to 6 years.  Point the air at each other; point it at your hands; send it down your shirt; point it into your socks; make it blow scraps of paper across your tray table.  The fun is endless.  If you can't find kid-centric accordion tubing, you can substitute cheapo plastic tubing from a home improvement store.  It's still hours of fun for less than $5.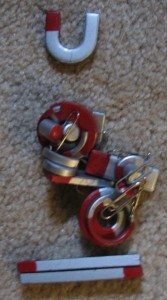 Magnets: We took one little set of fun magnets and we added paper clips, dull nails, washers, and bolts.  The little clump of fun was stored in a plastic bag and was easy to play with in small spaces where you really didn't want things to drop.  Move the magnets around, build a little sculpture, test if the paper clip got magnetized, play with the magnets as they repel, and see how many pieces of paper you can put between two magnets before the bottom magnet is no longer supported (note – magnets fall on the ground in that game).  Of course you can find all sorts of nifty travel magnet games with fancy shapes and clever tins but just plain magnets and metal bits are pretty fun too.  The magnets are clearly a choking hazard so only try this if your kids are ready.
When we travel this coming December, my kids will bring an iPhone, a Kindle, and a pack of gum.  It's wonderful that they're such easy travel companions now but I'll be nostalgic for old-fashioned felt, magazine cut-outs, plastic tubing, and magnets.  Enjoy it while you can!
We're making shopping for travel gear easy too.  Check out our favorite travel gear at our new shop!